Infographics
Pakistan in 2016: A Security Overview (January-April)
Date: May 13, 2016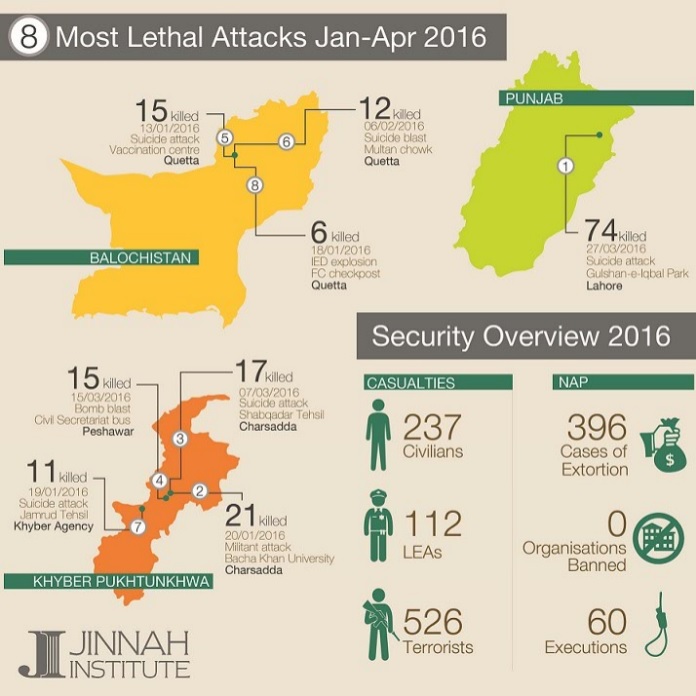 The first quarter of 2016 saw a sharp rise in terrorist attacks across Pakistan, in spite of robust government-led attempts to implement its 20-point National Action Plan. In terms of lethality, the attack on Lahore's Gulshan-e-Iqbal Park on Easter Sunday topped the list of deadliest attacks during the reporting quarter, followed by the attack on Bacha Khan University in Charsadda in January. The uptick in violence has coincided with renewed state-led efforts to curb violent extremism and militancy.
Punjab experienced the biggest jump in violence, with civilian casualties in the first four months almost equivalent to the total number of casualties in the province in all four quarters of 2015. The Lahore bombing on Easter Sunday prompted civil and military law enforcement agencies (LEAs) to launch a coordinated security operation, codenamed Operation Zarb-e-Ahan, against criminal gangs in the riverine area of Rajanpur in south Punjab. However, it is not clear if the ambit of the South Punjab operation will also extend to Punjab-based militant outfits entrenched in the area, long-considered a hotbed of violent extremism.
Terrorist casualties in military-led counter-terrorism operations accounted for 64 per cent of all those killed or injured in this period. According to one research estimate, however, militancy and violence by banned outfits increased by 34 per cent in the Federally Administered Tribal Areas (FATA) in the first quarter of 2016, compared to the corresponding period in the previous year. In terms of terror finances, police and provincial Counter-Terrorism Departments recorded 396 cases of extortion during the first quarter of 2016 – a figure that exceeds the total number of all extortion cases reported during 2015.
According to reports, 167 seminaries with suspected militant ties have been shut down in Sindh since the launch of the National Action Plan. Punjab, conversely, has closed only two seminaries. In efforts to choke terrorist financing, figures from January 2016 show that the Federal Investigation Agency (FIA) and State Bank of Pakistan have registered 326 cases on account of suspicious transactions. Reports suggest, however, that suspicious transactions and money laundering through donations, extortion, ransom, Hawala and Hundi continue. Further, while detecting and investigating cases of terrorist financing is much more complex than ordinary criminal investigation, the FIA remains as of now the only state organisation with a dedicated Terrorist Finance Investigation Unit.
Of particular concern to human rights observers is the number of executions carried out since the lifting of the moratorium, which crossed 390 in April 2016, placing Pakistan only next to Saudi Arabia and Iran. Human Rights Commission of Pakistan (HRCP) estimates only around 10 per cent of those executed since 2014 were associated with terrorism. Under NAP, the effectiveness of the National Counter Terrorism Authority (NACTA) remains slow.
Official documents also show that the registration and repatriation of undocumented Afghan refugees – NAP point 19 – has yet to begin in earnest. Nor have any new organisations been banned in the first four months of 2016. Conversely, reports of the Jamaat-ud-Dawa (JuD) setting up parallel Sharia courts in the Punjab have been met with grave concern, given that that the group is still listed as 'under observation' by the Ministry of Interior.
Going forward, there is an urgent need to take stock of NAP's progress, and to take course-corrective measures to plug implementation-gaps. There is equally a need for synching and sharing intelligence and functions across provincial Counter Terrorism Departments, anti-terror forces, Pakistan Rangers and other LEAs to successfully crack down on terror activities.
Sources
http://tribune.com.pk/story/1029585/madrassa-reforms-punjab-shut-only-two-suspected-seminaries-back-page/
http://www.dawn.com/news/1250294
http://www.thenews.com.pk/print/93555-130000-search-operations-carried-out-under-NAP
http://www.dawn.com/news/1229012
http://thediplomat.com/2016/04/pakistan-and-the-death-penalty/
http://frc.com.pk/wp-content/uploads/2016/04/FRC_Report_20162.pdf
http://www.capitalpunishmentuk.org/world.html