Twitter Cafe
Jinnah Institute's Twitter Cafe on #IndoPakFutures
Date: September 17, 2015
On 17/09/15 Jinnah Institute held an event for social media users, activists, mediapersons and policy practitioners to participate in its first ever Twitter Café. In an event format rarely used by civil society organizations, the Twitter Café aimed at creating a policy-focused debate on social media discussing the state of bilateral relations between India and Pakistan. Using the hashtag #IndoPakFutures, the Twitter Café engaged a large participation online by initiating a panel discussion at Jinnah Institute, which comprised of Jinnah Institute President, Senator Sherry Rehman, Director of the French Institute for International and Strategic Affairs Dr. Pascal Boniface, former Ambassador Ashraf Jahangir Qazi, campaign director for Alif Ailaan Mosharraf Zaidi, senior journalist Zahid Hussain and prominent human rights activist Marvi Sirmed. The event was moderated by television anchor Farrukh Pitafi.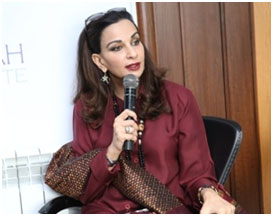 Senator Sherry Rehman spoke about the evolving nature of Indo-Pak ties and stated that civil society-led efforts for peacebuilding were critical for positive political outcomes in South Asia. She appreciated efforts made by Track 2 communities over the last two decades, but observed that reversals to bilateral gains had become more and more frequent. Commenting on the Twitter board for #IndoPakFutures, she felt that public discourse on Indo-Pak relations had steadily grown more acerbic over the years.
Visiting French scholar Prof. Pascal Boniface gave an insightful review of global developments since the end of World War II, as well as the transformed nature of violence and conflict in the Post Cold War era. He was of the opinion that the first Gulf War marked a major turning point in the global order and that challenges like climate degradation threaten human security in unprecedented ways.
Zahid Hussain was of the opinion that neither country benefited from aggressive posturing, and that ultimately both India and Pakistan had more to lose than gain from conflict. Marvi Sirmed added to this by observing how militaristic attitudes prevalent all over South Asia had led to rampant sexual violence in both India and Pakistan. She also pointed out that both nuclear neighbours had failed to achieve their Millennium Development Goals, and had to learn from one another's experiences in ensuring human security and development.
Amb. Ashraf Jahangir Qazi explained the mainstreaming of Hindutva in India's politics which impacted policy planning and implementation, and underscored that Kashmir was the core issue in any Indo-Pak dialogue. While India and Pakistan could "talk past" each other indefinitely, a review of core concerns was in order for any productive dialogue to be held. He further explained that protracted grievances in Balochistan had led to an insurgency, and the feeling of alienation among people had to be addressed.
Mosharraf Zaidi stated that there was no silver bullet for resolving Indo-Pak issues, and the range of challenges confronting both polities should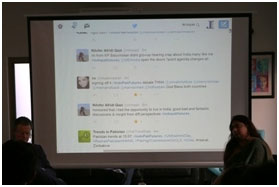 be understood. However, the conflict was hurting South Asia, especially the futures of smaller countries like Nepal and Afghanistan, whose potentials lay untapped.
A live Twitter-feed was used to map the online debate, which gave panelists an opportunity to take questions and engage with a much larger virtual audience. They responded to feedback that came through via the Twitter-feed, in the form of recorded videos or tweets. Policy recommendations formulated at the 16th Chaophraya Dialogue were also disseminated during the debate in response to specific questions, including how SAARC nations should evolve coordinated positions on climate change ahead of the COP21 conference in Paris in December, as well as suggesting that both India and Pakistan should jointly seek information from Afghanistan and China on glaciers feeding into the Indus Basin. Another recommendation in response to questions on the Mumbai and Samjhauta trials was that a Mutual Legal Assistance Treaty (MLAT) should be brought in place, based on a SAARC model, so that evidence can be shared between both countries to expedite legal processes.