Archives
April 3, 2015
Date: April 3, 2015
A Friday rundown of Pakistan's top policy headlines on JI's radar this week
Militant Dynamics 
This week's report of a splinter faction of the Islamic Movement of Uzbekistan (IMU) pledging allegiance to the Islamic State should raise concern for several reasons. Until now, the group had been loyal to the Afghan Taliban, but this latest decision has reportedly been taken against a backdrop of concerns about the credibility of the Taliban leadership in the absence of Mullah Omar. Pertinently, the move raises questions not just about the capacity of the Afghan Taliban to wage a spring offensive as they lose out on important militant allies but also about the capacity of the Afghan National Security Force to counter emerging militant threats.
Until now it was the presence of US-led NATO forces in Afghanistan that had been the primary motive for IMU activities in the region. Instead, it is now likely that the group will try to expand its infrastructure in Afghanistan and Pakistan, and target key civilian and military institutions in both countries. Uzbek casualties have been reported in the ongoing Operation Zarb-e-Azb, and may possibly trigger an IMU-orchestrated counter-offensive while other groups are on the backfoot.
Given their ideological allegiance with the Islamic State, militant splinter groups in Pakistan are likely to keenly switch tactics and targets in an attempt to stylize themselves along the lines of their Middle Eastern cousins, and will look to cash in on ungoverned spaces which can be claimed as territory. The IMU has already claimed responsibility for a string of fierce attacks across Pakistan; in June 2014 it also provided support for a brazen attack on Karachi Airport. As summer draws closer, the militant group can be expected to create diversions for the Pakistan Army in its ongoing assaults on terrorist hideouts.
Local-body Elections
Following the petition filed against non-party based elections, the Election Commission of Pakistan (ECP) notified that the upcoming local body elections will be held on party basis. Earlier, there had been strong opposition in the parliament against the passing of a bill proposing non-party based elections in cantonment areas as well as in the federal capital. Through its latest orders, the Lahore High Court has endorsed the view that such a setup is 'unconstitutional' and runs contrary to democratic values.
Local government elections are long overdue. Enshrined in the 18th amendment as the third tier of government, local governments form the basis of devolved governance that allows for improved mechanisms in social service delivery and accountability of elected representatives. Historically, non-party local governments have been used as a tool to entrench dictatorial control over domestic politics. In this context, all opposition political parties have lauded the judicial decision, which they belive will help foster greater political competition and strengthen party structures at the grassroots.
But more importantly, given the prolonged rigging controversy following General Elections 2013 and recent skirmishes between two mainstream political parties in Karachi, the ECP should establish a more robust mechanism to ensure strict adherence with the electoral code of conduct during the much awaited LB elections.
LNG Import and Pricing
Initially tight-lipped on the issue, Minister for Petroleum and Natural Resources Shahid Khaqan Abbasi announced this week the price settled for the first shipment of Liquefied Natural Gas (LNG) from Qatar. The current price – $8 per million British thermal units (mmbtu) – has given a head-start for LNG imports but is likely to be temporary. The Minister also revealed that a government delegation will be visiting Qatar to reach an agreement over pricing for subsequent shipments.
For an energy strapped economy like Pakistan, diversification in the energy mix is indeed a positive development. But gas imports have not been well-received by all quarters, with the Sindh government emphasizing that priority should instead be given to exploration of domestic resources. Since exploration work requires both time and monetary investments, the federal government is seen trying to meet the aggravating demand-supply mismatch through imports.
However, if a long-term agreement over pricing of LNG can be reached, as the Minister has indicated, it may help act as a buffer against external price shocks, depending on the share of LNG in the energy mix. In the wake of the ongoing crisis in Gulf, for example, oil prices have already escalated. Trends in the global gas market, on the other hand, indicate that there could be a supply glut, with new sources emerging in Eastern Mediterranean, East Africa, and Australia, and unconventional gas production in North America.
While there is still not a global index for gas pricing, gas suppliers (including Qatar) may well try to expand their markets towards demand centers concentrated in Asia. Although Pakistan is faced with a crippling energy crisis at home, global gas supply projections allow room to negotiate a better deal for gas imports.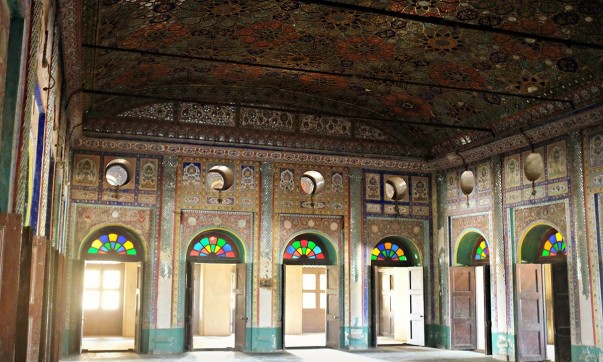 An inside view of the historic Sheesh Mahal in Khairpur, Sindh, depicting hand painted tiles and intricate mirror work. 
Image Courtesy: Farooq Soomro and Shameen Khan

The Lahore Music Meet to be held this week will be the first ever music festival in Pakistan, bringing together music enthusiasts, artists and academics from all over the country. Aside from performances celebrating both popular and traditional music, the festival will also feature panel discussions and story-telling sessions on themes related to Pakistani music. The LMM will cater to a persistent need for cultural spaces for Pakistani youth.

The Buzz –
Iran Deal
 featuring Twitter reactions to historic agreement on key parameters for a Nuclear deal between Iran, the US and EU.