Infographic
Rebuilding Lives After Zarb-e-Azb
Date: April 29, 2016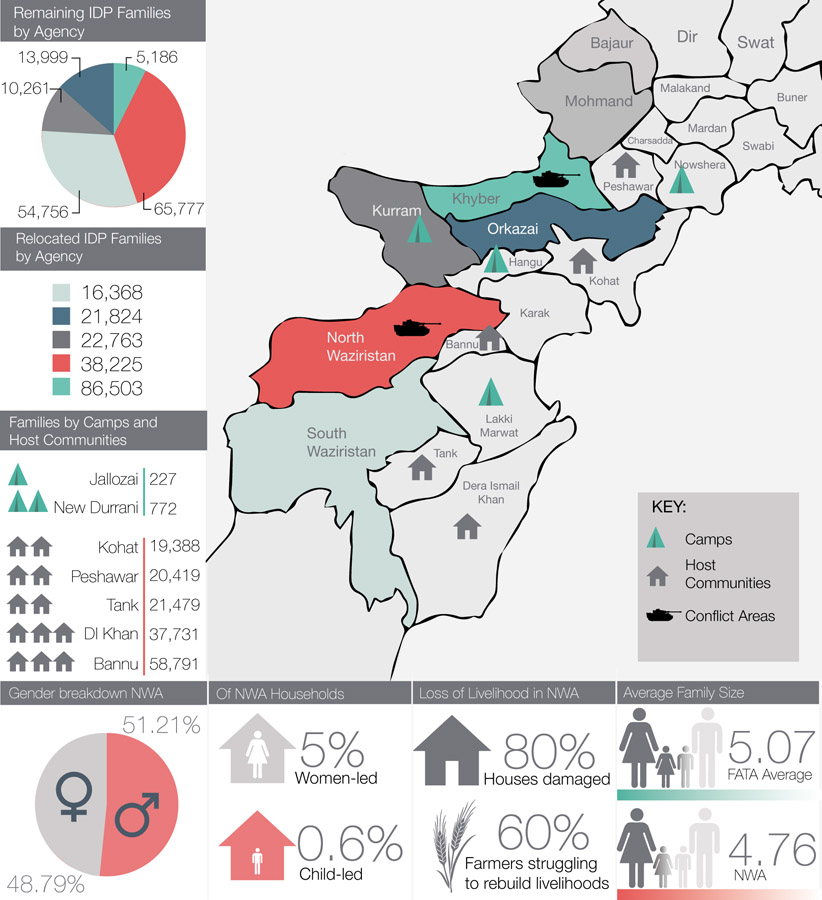 The launch of military Operation Zarb-e-Azb in North Waziristan in June 2014 prompted the displacement of over 435,429 individuals within a week of its commencement. While a significant exodus of Temporarily Displaced Persons, or TDPs, was absorbed by formal camps set up by the government and humanitarian organisations, a majority opted to live in informal settlements and host communities in adjacent Khyber Pukhtunkhwa, putting additional strain on housing, electricity, health and sanitation services.
In April 2015, the FATA Secretariat took the lead in developing the 'Sustainable Return and Rehabilitation Strategy' to ensure the sustainable return of all TDPs to FATA by December 2016, a daunting task estimated to cost the Pakistani economy $753 million. The strategy is being carried out in two phases: the 'Immediate Return and Rehabilitation of TDPs', which is currently in process, and 'Permanent Reconstruction', which is yet to be initiated. As of April 2016, an estimated 38,225 families have already returned to North Waziristan.
Research shows that returning families are entitled to Rs.10,000 for transportation, and Rs.25,000 as basic subsistence allowance to meet their urgent needs. The federal government has allocated a total of Rs.80 billion, in the current financial year, to the rehabilitation project. Out of this, Rs.50 billion has been apportioned for housing subsidies, repatriation and rehabilitation. In February 2016, however, officials reported that only between 15 to 20 per cent of the promised amount had been released by the government.
On the humanitarian front, UNICEF and WFP are currently providing hygiene kits and six months of ration. However, despite cash grants, three in every four returnees still lack sufficient funds for basic requirements. Further, 60 per cent of returnees owning agricultural land in the Federally Administered Tribal Areas (FATA) face considerable difficulties restarting agriculture-based livelihoods, due to unavailability of key inputs including seeds, equipment and livestock. On average, returnees are currently producing enough to meet household needs for only 3.5 months each calendar year.
Worse still, for many TDPs wishing to go back, there are no homes to return to. In some areas, 80 per cent of houses have been damaged, with initial assessments indicating that the shelter situation is worst in North and South Waziristan.
Housing remains a core issue: while the government had announced payment of Rs.400,000 for damaged houses and Rs.160,000 for partially damaged houses, these payments are only disbursed to houses included in the government's survey of damaged houses, which does not cover the total number of affected households.
Another immediate gender-based concern is the lack of assistance to an estimated 5 per cent of TDP families from North Waziristan that are unregistered because they are not male-headed. Consequently, female-headed households continue to struggle to receive monthly food packages, non-food items, cash for transport and other financial assistance.
As the war in the tribal agencies enters its third consecutive summer, policymakers and humanitarian groups urgently need to review their policy towards returnees to bridge these gaps, in order to ensure safe return and sustainable rehabilitation. Key recommendations based on research findings highlight the need for revamped food-for-work and cash-for-work programmes, in light of strong correlation between livelihood and vulnerability to food insecurity. In addition to reviving agriculture, the government must implement programmes to generate non-farming livelihoods. Lastly, as the return plan enters its final Rehabilitation and Recovery phase, grants to cover house damages must be distributed expediently, accompanied with water and sanitation programmes in order to provide a hygienic environment for the families to live in.
Sources
http://ec.europa.eu/echo/files/aid/countries/factsheets/pakistan_en.pdf
http://tribune.com.pk/story/847899/repatriation-plan-nwa-and-bara-idps-to-return-this-month-not-sans-concerns/
http://reliefweb.int/report/pakistan/next-phase-idps-repatriation-start-11th
http://adf.org.pk/wp-content/uploads/Rapid-Assessment-Report-by-NSR-30.06.14.pdf
http://reliefweb.int/sites/reliefweb.int/files/resources/humanitarian_bulletin_dec_jan_2016.pdf
http://www.pk.undp.org/content/pakistan/en/home/presscenter/pressreleases/2015/04/07/the-government-of-pakistan-launches-the-fata-sustainable-return-.html
https://fata.gov.pk/cp/uploads/news/1429104793552e52c0b0104.pdf
http://www.pk.undp.org/content/dam/pakistan/docs/CPRU/idps2014/02-R&R%20Report%20Format.pdf
http://www.ndu.edu.pk/issra/issra_pub/articles/ndu-journal/NDU-Journal-2015/05-Struggling-IDPs.pdf
http://reliefweb.int/report/pakistan/pakistan-humanitarian-bulletin-issue-37-december-2015-january-2016
http://tribune.com.pk/story/1085516/home-without-a-home-tribespeople-dissatisfied-with-compensation-paid-to-rebuild-their-lives/
http://reliefweb.int/sites/reliefweb.int/files/resources/wfp280107.pdf
http://www.thenews.com.pk/print/98404-Military-seeks-urgent-release-of-funds-for-TDPs
http://adf.org.pk/wp-content/uploads/Rapid-Assessment-Report-by-NSR-30.06.14.pdf
https://www.iiss.org/en/iiss%20voices/blogsections/iiss-voices-2015-dda3/december-5c5a/zarb-e-azb-72cf
http://reliefweb.int/sites/reliefweb.int/files/resources/march_2016-idp_fact_sheet_31_march_2016.pdf