Balochistan File
---
by:

Saba Imtiaz & Madeeha Ansari

Date:

November 18, 2013
---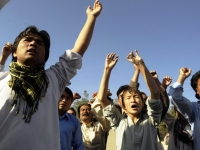 The roots of violence in Balochistan can be traced to multiple sources, from political unrest, to sectarian strife, to a severe development deficit. In two parallel analyses, JI provides an insight into the triggers for conflict and separatist sentiment in the largest province in Pakistan.
Poisoned minds: Fuelling the massacre of Shias in Pakistan
It was meant to be a drive to a religious pilgrimage. It ended as a bloodbath.
On September 19, 2011, 26 people were shot dead in Mastung, Baluchistan, after a bus carrying pilgrims to Iran came under fire from militants later claimed as their own by the anti-Shia sectarian group, Lashkar-e-Jhangvi. According to the bus driver, the pilgrims were told to step out of the bus and were shot dead after being identified as Shia. The attackers escaped, leaving behind bullet-ridden bodies – which lay unattended for an hour until locals initiated their own rescue operation – and a community in mourning, yet again.
According to a conflict monitor tracking violence in Pakistan, 179 people have been killed in sectarian attacks this year. This was not the first attack targeting the Hazara Shia community in Baluchistan – a news report estimates that at least 347 Hazaras have been killed since 1999, and that 105 had been killed in 2010[i]. Since September 2010, 395 people have been killed in 40 incidents of sectarian violence.[ii] Over a 100 people have been killed in Quetta alone, and 216 have been injured in the provincial capital and Khuzdar. Given the frequency of attacks by sectarian organisations, it would be optimistic to assume that it was the last. Four days after the massacre in Mastung, three Hazara Shias were shot dead by Lashkar-e-Jhangvi militants while en route to Sibi. The community was targeted again barely two weeks later on October 4, when a bus carrying 20 passengers was targeted by gunmen near Quetta. Twelve Hazara Shias were killed in the incident.
The government's response was characteristically non-committal, with one official stating that the "pilgrims should have told [the government] where they were going." In addition, the Advocate General of Baluchistanstated that pilgrims should obtain a no-objection certificate (NOC) before leaving for pilgrimage. The irony that pilgrims need an NOC to travel and militants can gun down any number of people at any given time is not lost on anyone.
That the state has failed in protecting its citizens is neither new nor ground-breaking. It is a fact of life that Pakistanis have grown used to, having lost thousands in suicide attacks, assassinations and bomb blasts. However, the fact that the state nurtures these elements and lets them turn on its own is a grave matter. Propped up by the state in the past[iii], the Sipah-e-Sahaba's militant offshoot, Lashkar-e-Jhangvi, has claimed responsibility for several of the targeted attacks. On Eid-ul-Fitr, a suicide bomber from the Lashkar-e-Jhangvi killed 12 people and injured 32 as he blew up his explosives-laden car near the Eid prayer congregation. Had he reached the congregation itself, over 20,000 people would have been targeted.
The anti-Shia Sipah-e-Sahaba Pakistan was formed in 1985 by then leader of Jamiat Ulema-e-Islam, Haq Nawaz Jhangvi. Its stated goals include declaring Shias a non-Muslim minority like Ahmadis, proscribing their processions during Moharram and imposing its version of shariah law on the state and society. Scholars have linked the rise of the SSP to the Majlis-e-Ahrar movement, which led the anti-Ahmadi agitation and riots in the 1950s and found "˜success' when Ahmadis were declared non-Muslims in 1974. The movement became a "prototype" for the anti-Shia movement launched by Haq Nawaz Jhangvi, who wanted Shias to be declared apostates through constitutional means[iv]. Scholars also link the Sipah-e-Sahaba Pakistan's success and government backing to two external events – the 1979 revolution in Iran and the Soviet invasion of Afghanistan. General Zia-ul-Haq, distrustful of the influence Iran could wield on Pakistani Shias, offered support tohardline Sunni organisations that now thrive in the country. A 2005 report on the state of sectarianism in Pakistan estimates that 5,000 to 6,000 Sipah-e-Sahaba activists have undergone jihadi training.[v]
Lashkar-e-Jhangvi was formed in 1996, after Jhangvi was killed. Its leadership included Riaz Basra, who was himself was killed in 2002 in a police "˜encounter',[vi] and AkramLahori, who is currently in jail. Another prominent leader, Malik Ishaq, was released from jail this August after 14 years. He was accused of killing 70 people in 44 cases, out of which, Ishaq was acquitted in 34 cases and bailed out in 10. Ironically enough, Ishaq also planned to go for religious pilgrimage to Saudi Arabia after recently obtaining a passport. However, his plans were deterred as he was detained under the Maintenance of Public Order act a day after the massacre in Mastung.[vii]
The case of Malik Ishaq once again raises serious questions about the state abetting militant networks. Ishaq was released from Kot Lakhpat jail in August in a hailstorm of rose petals, vivid scenes similar to those that greeted Mumtaz Qadri, the assassin of the late Punjab Governor Salmaan Taseer, at his court hearing. Following his release, Ishaq gave a number of speeches smacking of bravado. He has little reason to fear given that Punjab government has provided him with a police escort and his family a stipend, in what can only be described as a macabre welfare program for militants.
Ishaq went on an extensive speaking tour after his release, addressing crowds in Rahim Yar Khan, Lahore, Samundri and Khairpur, among other places. Footage of his rallies features him promising to continue his mission of "˜protecting the finality of the Prophethood (peace be upon him)' and showing crowds allegedly blasphemous material to invoke them to fight for Islam.[viii] Ishaq repeatedly mentioned his pride in the Sipah-e-Sahaba Pakistan, how his release shows that he was on the guided path and that the "˜agencies' and government are keeping an eye on him.
Law enforcement agencies had tracked Ishaq's movements after his release, including his inflammatory speeches and meetings with people listed on the fourth schedule of the Anti Terrorism Act. Detention does not appear to have deterred Ishaq. In a message to his followers, Ishaq stated that he believes the fear of prison, bullets, handcuffs and detentions to be polytheism.
Since its creation, the Lashkar-e-Jhangvi has been implicated in the deaths of hundreds of Shias and Iranian nationals and even tried to assassinate then-Prime Minister Nawaz Sharif in 1999. During the October 2009 siege of the Pakistan Army headquarters[ix] in Rawalpindi, Ishaq and fellow member of the LeJ Ghulam Rasool Shah, also currently in jail, were reportedly flown in to negotiate with militants[x]. Impunity for the Lashkar-e-Jhangvi implies a level of tolerance the state cannot afford for these groups.
On November 11, 2010, Karachi's residents living on opposite ends of the city were jolted by the impact of an explosion that leveled the Crime Investigation Department headquarters, killing 20 people and causing extensive damage to the neighbouring living quarters for police officers. The attack came a day after the police had arrested alleged Lashkar-e-Jhangvi members. Sectarian strife fuelled by the organization has had far reaching consequences on the country's psychosocial fabric. One incident among many others is from Sahiwal, Punjab, where a man had stabbed his 17 year old daughter to death. He had severe differences with his wife, the biggest contention being the wife's faith: she was Shia, while he was Sunni. Even though his family was Barelvi and believed in the tradition of pirs and mureeds, he had begun to follow the diktat of the Sipah-e-Sahaba. His distraught wife speculated that it may have been his outrage at their children following some Shia religious practices that prompted his brutal attack on their eldest daughter. It is murders like these, and massacres in Mastung, that should finally push the government to fully implement its bans on the Sipah-e-Sahaba Pakistan and Lashkar-e-Jhangvi.[xi]
The Munir Commission Report of 1954[xii] presented an exhaustive inquiry examining the events and incitement – with complicity from elements of the state and the press – that led to the anti-Ahmadi riots of1953. The report should be made mandatory reading for government officials to understand the implications of not acting against elements that foment hatred and instigate riots; the importance of the role played by the bureaucracy, district administration and law enforcement agencies to deal with situations; and how important it is to deal with existing threats as legitimate law and order situations, before they turn into full-blown crises.
It highlights a foreboding letter written in 1951[xiii] as anti-Shia violence was beginning in Punjab. "What is happening now, seems almost a writing on the wall and God help us if we do not stop these ignorant people from cutting each other's throat and thus bringing comfort and cheer to our enemies." Another letter[xiv] sent by the government to deputy commissioners, which stated that while religious communities and sects were free to practice their faith, religious controversies must be discouraged and disorder follows when deputy commissioners do not take timely action. The letter asks, "Have they not allowed the people to assimilate the poison which was administered to them?"