Who Will Win the Hindi Heartland?
---
by:

Meera Nadeem & Abdulla Wasti

Date:

February 11, 2022
---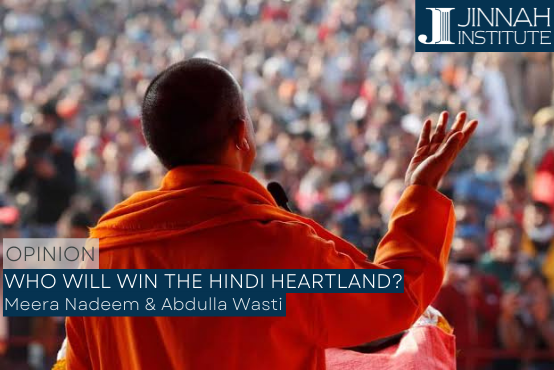 India had once claimed the merit of being the largest democracy in the world, where 900 million voters enable the political mandate of its legislatures. This may even have proven true less than a decade ago, except for India's sharp descent into communal hatred after the BJP assumed power in 2014, and validated the daily persecution of religious minorities. Every electoral project since then, however large, has delivered more political disunion and communal factionalism than democratic gains. Anti-Muslim genocide rhetoric has also seen a blatant rise, as evidenced by the recent Hijab-ban controversy and protests in the state of Karnataka.
The upcoming state elections in five key states Uttar Pradesh (UP), Uttarkhand, Punjab, Goa and Manipur are being seen as a crucial test for the ruling BJP, especially as they come after the controversial repeal of farm laws that saw hundreds of farmers die in protests, and revealed pervasive discontent with the Centre's high handed style of governance. These states together comprise about one-fifth of the country's population. UP, with its 200 million strong population, is the prime state to watch among them as it is known to be the nerve-centre of India's contemporary political fabric, and where the BJP's Hindutva politics has yielded electoral victories in the past. The BJP must defend this turf though, against the Congress and other contenders. In 2017, the BJP secured 312 out of 403 seats in the state; and 62 of its 301 seats in the Lok Sabha come from UP.
At the moment, the BJP is in power in four out of these five states, barring Punjab, where Congress is in power. The most intense farmers' agitation has occurred in Punjab, along with western UP. Elections for the UP Assembly will be held in seven phases beginning on Feb 10th, while Manipur will see two-phased elections on Feb 27th and March 3rd. Punjab, Goa and Uttarakhand will have single phase elections on Feb 14th. All votes will be counted and the results announced on March 10th.
Beyond the state assembly elections, UP is critical to the presidential election next year as well. Each of the UP MLAs have a weightage of 208 for electing a president, compared to other states (Sikkim's MLAs have a weightage of 7). The five states running in the assembly elections account for 10 per cent of the total electorate in the presidential election (103,756 votes); of this, about 80 per cent of the vote value is in UP (83,824). The state elections are crucial as to whether opposition parties can form a united front to challenge the ruling BJP on a national scale for 2024's Presidential elections. Experts say the outcome of these elections will be pivotal for Modi's bid for a third term as Prime Minister; losing UP now would mean a serious blow to Modi's cult popularity.
Given the electoral importance of UP, the BJP will deploy its signature tactic of communal hatred and division to win votes. Of course, this strategy has worked time and again. Yogi Adityanath, the polarizing monk-turned-Chief Minister, is unapologetic in his rhetoric against Muslims and has successfully secured a following of ultranationalist supporters by promising development and an inclusive Hindu caste coalition. The building of a temple in Mathura is a tenet of his campaign in UP, and he has vowed to settle the long standing Hindu-Muslim dispute over its ownership. Mathura is a constant refrain in his political speeches now, and has spread anxiety among Muslims constituents who remember the aftermath of Ayodhya. In the 2019 general elections, the BJP had made the settlement of Babri Masjid a cornerstone of its campaign, and galvanized significant Hindu support over the issue.
Furthermore, Chief Minister Adityanath states the ballot will be cast '80 against 20' in UP, or percentages that closely match the Hindu-Muslim population divide. Opinion polls indicate BJP's win in UP despite discontent over economic stewardship and handling of the pandemic for two reasons. Among its traditional voter base, there is skepticism surrounding the Samajwadi Party's (SP) ability to improve the state of affairs, as well as the ruling party's significant urban support. Nevertheless, there are indications that new political alliances created ahead of the elections, could mount an upset.
Congress is considered the usual counterforce against the BJP's Hindutva juggernaut, despite repeat poor performances. There is an open debate among voters asking whether it is finally time to look beyond the Congress for political leadership. New party formations are taking shape and regional parties are asserting themselves, and gaining traction. Since the 2019 elections, any new opposition leader of distinction has come from outside the Congress. A noteworthy phenomenon is the All India Majlis-e-Ittehadul Muslimeen (AIMIM)'s minor victories in UP which show where the Muslim vote is headed, and how the Congress may have taken it for granted since years. Observers recall that the Muslim vote had shifted away from Congress in UP and Bihar in the 1990s, and will do so again throughout the Hindi heartland. The Congress' loss is surely others' gain, including AIMIM leader Asaduddin Owaisi, who was attacked on the UP campaign trail, but has picked up Muslim support along the way.
Other Backwards Castes (OBCs) constitute over 50 percent of the state's population, and their leaders are exiting the BJP to join the ranks of the Samajwadi Party. Meanwhile, the Rashtriya Lok Dal (RLD) holds considerable sway among Jat farmers in western UP, large numbers of whom hold grievances against the BJP's farm laws. The Samajwadi Party and Rashtriya Lok Dal have created an alliance that aims to rally the combined Muslim, Jat and OBS vote.
The BJP's scaremongering has its uses (UP's "harmony" will break down) but there are growing numbers of voters calling out this brand of divisive politics along religious lines. The pandemic took a heavy toll on livelihoods in UP, and unemployment among youth stands at 25 percent. Frustrated with joblessness and the BJP's indifference, young protestors set trains on fire last month, and held protests for several days. It remains to be seen whether disgruntled voters' angst over economic hardship will be sufficient to push back against the saffron wave, but sets a key expectation for all political contenders. For its own part, the BJP is warning its voter base about "Muslim-Yadav dominance" in the event of a Samajwadi Party victory.
Incidents from other states where Hindutva is on the rise, like Karnataka schools banning hijab-clad students from entering, demonstrate that communal sentiment catches on easily. It is clear that UP is central to the BJP's Hindutva project, and perhaps it may even be the dominant ideology of the Indian electorate. But will other parties be able to sell a better narrative than BJP's dogma? This election will tell if there is still a secular glimmer of hope to hold on to.