Hard Talk
---
by:

Fahd Humayun​

Date:

July 18, 2015
---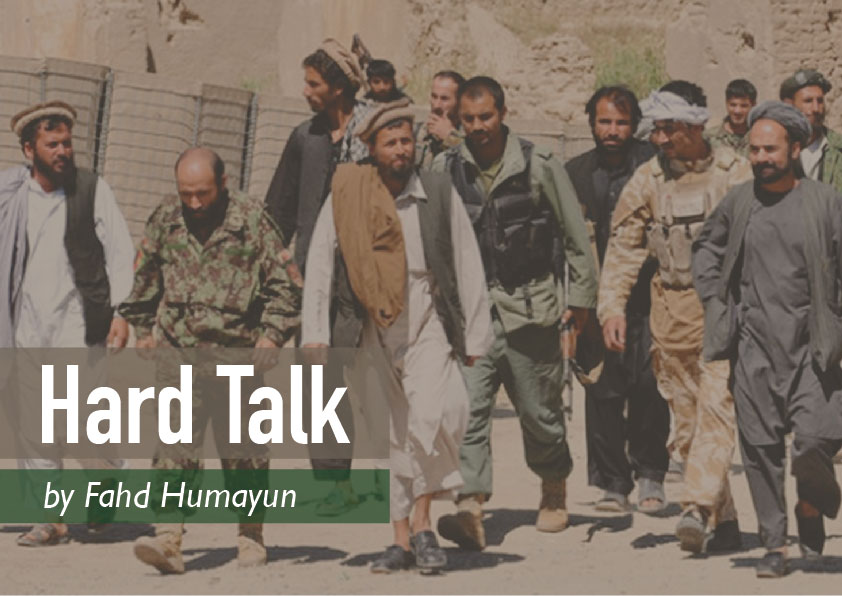 There was always going to be a lot riding on the first direct meeting between the Afghan High Peace Council (HPC) and the Afghan Taliban. Two years after Hamid Karzai flew to Murree to persuade Pakistan to release Mullah Baradar after the collapse of the Doha process, last week's hillside talks are the fruits of a rebooted Pak-Afghan relationship and months of prolonged shuttle diplomacy.  
Since November, President Ashraf Ghani's government's quiet determination to back-channel with the Taliban has paid off in at least four other strategic interactions: in Beijing, Urumqi, Doha (arranged by Pugwash) and Oslo.
Kabul's latest timeline of covert engagement with the Tehrik-e-Taliban Afghanistan (TTA) and Haqqani Network has thrown up four definitive home truths about Afghan-led reconciliation.
The first is that while Pakistan was instrumental in bringing its weight to bear on the Quetta Shura and the Haqqanis and get them to the negotiating table, the TTA franchise continues to be racked by faultlines and questions of combat legitimacy. Negotiating a conclusive and lasting peace will thus depend on the HPC's ability to settle divisions between the Quetta Shura and its de-facto leader Mullah Mansour, the Taliban's Qatar office, and the Haqqani Network. And while Islamabad may be ready to facilitate an intra-Afghan negotiation made all the more difficult by the TTA's own heterogeneity, it cannot and should not be expected to stabilise Afghanistan's southern, eastern or northern tracts where a deadly surge has now has a riled opposition pillorying President Ghani for being a pacifist. Instead, Pakistan's supporting role in the Urumqi and Murree processes remains a function of its renewed post-Peshawar pledge towards regional stabilisation, pivoted in decisive Pakistani military action in FATA that needs to be matched by scaled up Afghan action east of the border.
Second, despite the Taliban's bluster in Badakshan, Kunduz and Khost, Daesh's foray deep into the country will dramatically alter the nature of the Afghan insurgency this year, speeding up vertical disintegration and mass defections. So while Mullah Omar's Eid message this week sanctioning the Murree process can be seen as intending to unify a fractured command, hardline lieutenants such as ex-Guantanamo detainee Abdul Qayum Zakir and other breakaway militias will continue to spurn talks channeled through an administration in Kabul they see as illegitimate, thus frustrating the peace project.
The third takeaway is the pronounced Sino fingerprint. China's understated and often underestimated bilateral contact with the Quetta Shura, together with an ambitious new role in the Istanbul Process – the only regional coalition dedicated to Afghan security – is paying off in a big way. The CCP now has a network of active communication channels with the Taliban, mainly to extract commitments rolling back Uighur activities in the region. Beijing's reported readiness to play guarantor in the next stage of a Taliban peace deal only confirms China's rising security stakes in Central Asia.
Fourth, America's residual presence in Afghanistan still is and will remain a powerful casus belli for mujahideen contingents across the country, as evidenced by Sunday's brazen attack near Camp Chapman, only days after the Murree breakthrough.
This means that Washington's ability to arbitrate favourable peace outcomes may increasingly hinge on how it works, not just with Pakistan, but other potentially powerful referees such as Iran. There have been at least three private Iranian interactions with the Taliban since 2012. Tuesday'slandmark nuclear deal between Iran and the P5+1 in Geneva now means that as the country's regional stock rises, so will its outreach to and leverage over Taliban commanders in southern Afghanistan.
Caught in the throes of a violent summer offensive, President Ghani's peace mission back home is facing other challenges as well. Last week the Afghan President's nominee for defense minister Masoom Stanekzai received only 84 out of the 107 parliamentary votes necessary to secure an as-of-yet unfilled cabinet position. A former member of the HPC, Stanekzai's assumption of the portfolio would have strengthened Ghani's personal credibility as a peacemaker.
For a lasting ceasefire to hold, however, an interim political deal will have to be built on a grand bargain, given that neither the Afghan government, nor the Taliban, are presently negotiating from a position of strength.
A complete renunciation of violence by the Afghan Taliban minus any reversals in Afghanistan's hard-won gains in human rights and gender equality should, realistically speaking, form the Ghani administration's baseline when it comes to talking to the Taliban. There is also unlikely to be any wiggle-room on the status of stationed US military and counterterrorism trainers – now treatified under the 2014 Bilateral Security Agreement.
This means that if the HPC is serious about reaching a deal, it may have to concede on three other fronts: negotiating the delisting of Taliban leaders from a UN-sponsored blacklist, allowing them a permanent local address, and offering them the freedom to meet and travel – provided of course that these waivers reflect an indigenously-reached political consensus in Kabul.
It is also possible that the HPC's international guarantors may leverage a fourth Taliban demand, i.e. the release of select prisoners from Guantanamo, as security on the way to a final deal that will get the insurgency to lay down its arms.
But for a settlement to be reached with the Taliban before mission-creep sets in, both camps will also have to reconcile with the twin but thorny issues of representation and legitimacy. In this context, direct engagement with the Haqqani Network led by Mullah Yahya in Murree is likely to be consequential. Having the Haqqanis on board is critically linked to negotiating a permanent end to violence in Afghanistan. Peacemakers may similarly have to make more space for Kandahari Pushtun representation in future talks to ensure their credibility – an allowance the Ghani administration could consider granting in exchange for a valuable seat for an Afghan woman at the High Peace Council table. This will be a bellwether index of Kabul's commitment to moving beyond tokenism in its quest for inclusion.
With Islamabad set to host the next Heart of Asia ministerial conference this December, sustainable intra-Afghan reconciliation is a chance for both Islamabad and Kabul to exorcise the relationship of its Karzai-Kayani demons. Hopefully, the Murree summit will also win President Ghani some much-needed political space to stay the course at home. However, when the HPC now meets the Taliban in Doha after Eid, the Afghan government's biggest test will be how it chooses to spell out its red lines, while avoiding a replay of July 2013, back when negotiations broke down before they had even begun.
 The writer works for Jinnah Institute's Strategic Security Initiative. He tweets @fahdhumayun
A version of this appeared in The News on 18/07/15.
Please note that the views in this publication do not reflect those of the Jinnah Institute, its Board of Directors, Board of Advisors or management. Unless noted otherwise, all material is property of the Institute. Copyright © Jinnah Institute 2015