Saffron Sweep, Again
---
by:

Hassan Akbar

Date:

May 25, 2019
---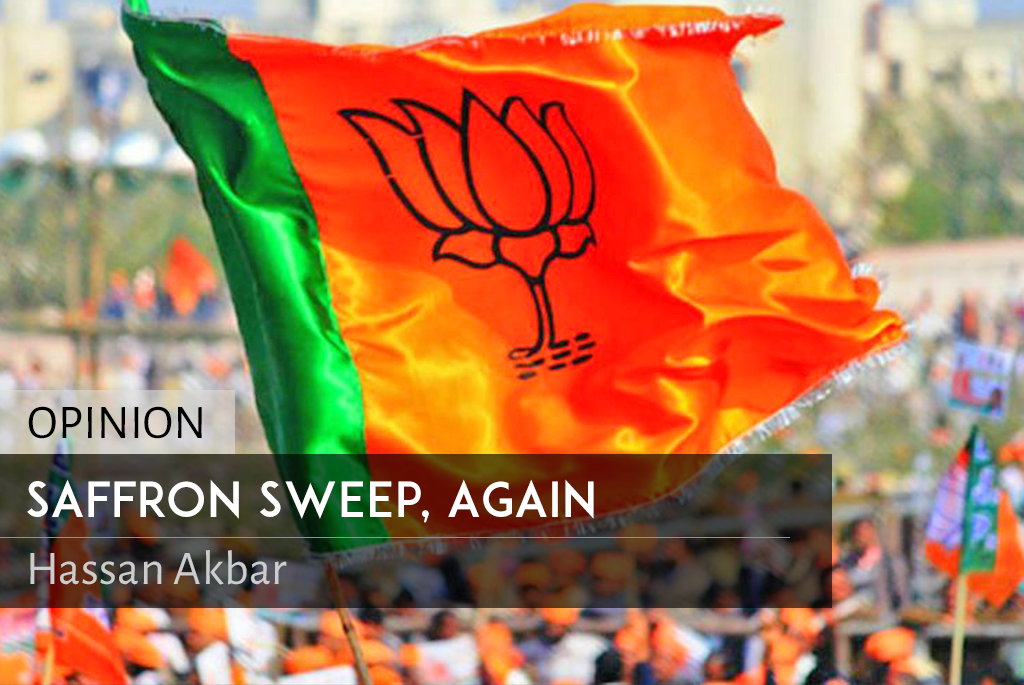 For the first time since Indira Gandhi, an incumbent prime minister has returned to Delhi with an even greater majority after completing a five year term. Narendra Modi, who was until six months ago head-to-head in opinion polls with the opposition, has managed to outmaneuver his opponents by breaking new ground. The BJP has gained significantly in states such as Odhisa, West Bengal, Karnataka and Arunachal Pradesh gaining 301 seats in the 542 seat Lok Sabha. With some estimates putting the BJP led NDA alliance at over 355 seats, Modi is shy of just 7 seats to gain a two-third majority in parliament.
Despite stiff resistance to the BJP in UP from the BSP+SP combine and a dismal performance by the BJP's NDA partner ADMK in Tamil Nadu, the BJP has been able to make up for losses by gaining in their non-traditional turf. What is even more surprising is the BJP sweep in Rajasthan and Madhya Pradesh, where just six months ago the Congress handsomely won state assembly elections. This reversal in two key Hindi belt states can be understood by the inability of the opposition to craft a successful narrative in the face of a deep penetration by a well-timed nationalistic narrative by Modi after Pulwama. The success of the BJP in making the Lok Sabha polls more about national politics and less about state development have helped sell the incumbency despite failures on the economic front with sluggish growth and a disastrous demonetization.
If there is one certainty in this history making BJP win, it is the centrality of brand Modi. Carefully curated interviews and images of Modi have helped position him as a non-dynastic self-sacrificing nationalist who is as comfortable praying in the caves of Kedarnath as he is fighting the hard fight on the borders. For his party though, brand Modi has not been their only sell. Unlike ever before, the BJP has been overrun by an ultra-right RSS brand of Hindutva nationalism. The BJP old guard has been sidelined and instead young die hard bhakts such as Pragya Singh Thakur, a terror accused, and Tejaswi Surya have become the new face of a new BJP.
From Kashmir to Karnataka, the BJP and its many candidates have openly campaigned on an anti-minority and anti-Pakistan platform. Hindutva has been the driving force for the party's cadres and election speeches have been filled with divisiveness, bigotry and hate. In West Bengal, the BJP has promised to kick out non-Hindu, non-Buddhist 'invaders' and labeled the Banerjee led TMC as Muslim loving and anti-national. In Kashmir, the party leadership has promised to do away with Article 35A, the only protection for the State's Muslim majority. In Kerala, Rahul Gandhi's rallies have been labelled Pakistani because they have had a greater proportion of Muslims. The breadth and width of bigotry on display has been astonishing. Even more astonishing has been the Indian voter. In an increasingly polarized India, the average voter has rewarded Modi for his militarism on Pakistan, his party's unabashed Hindutva ideology and the hate speech of the party's election candidates.
With India's domestic polity now attuned to hard messaging on Pakistan, the prospects for serious and sustained dialogue are slim. In Islamabad, there is talk of new beginnings post-election and the recent Qureshi-Sushma meeting on the sidelines of the SCO and an exchange of pleasantries between Imran Khan and Modi are seen as promising developments. But both countries have been here before. Modi has been adept at using public visuals to sell a story of outreach without any concrete forward steps. With the Indian electorate rewarding political leadership for a hardline on Kashmir and Pakistan, the ground realities are unlikely to change.
In Kashmir, the insurgency continues with renewed vigor. The BJP has so far refused to negotiate with the Valley's political leadership. After promising a rollback of Article 370, the BJP is likely to pursue and even more militarised policy towards Kashmir. This will create violence within the Valley and provide little room for any political party in Pakistan to consider a dialogue that does not address Kashmir. The BJP is also likely to continue deploying its recent repertoire of aggressive policies towards Pakistan. This includes a diplomatic push for isolation, blocking the SAARC, a weaponisation of water and the rollback of the MFN status on trade. In view of the expected policy continuation by an even more emboldened Modi government, Pakistan should not expect any overtures to extend beyond temporary crisis management or visuals for international consumption.