A guilty witness to the flood exodus
---
by:

Nasim Zehra

Date:

November 18, 2013
---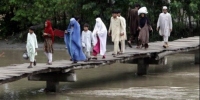 It was around sunset and I was watching the floodwater spread to Tando Hafiz Shah. The small town in southern Sindh with an estimated population of 50,000 was almost completely deserted by the time the flood wave arrived.
With shops and bazaars completely shut down, a few donkeys roamed the streets and nearby fields with standing crops were soon submerged in water. It looked like a ghost town.
I could see the water moving with great speed and slowly destroying the roads and drowning all that stood in its path.
Only a few months ago, the locals had laboured under scorching summer heat to plant cotton and sugarcane on their land, but now the flood had destroyed it all. There will be no harvest this year.
The Indus River, called Sindho here, has devoured everything. This villager told me that they had never seen so much water before in their lifetime.
Sensing the unprecedented danger, the locals had tried to fortify the river embankment and raise it to eight feet earlier in the week. However, last night the Indus with one blow knocked out their defences.
Floodwaters carved out huge channels through the embankment and triggered a wave of water that kept on rolling at an incredible speed.
The water wave has completely destroyed the lives of the Tando Hafiz Shah's inhabitants – their crops, their homes and their belongings. Using tractors, residents tried to save anything they could. In some cases, people had to walk for enormous distances to reach safer areas.
When they were leaving, many of them did not know where they were going or when they would be able to return. This story of Tando Hafiz Shah is not unique. It is being repeated in endless cycles all over the country, whether it is the mountains of Swat and Gilgit-Baltistan, or the floodplains of Sindh.
The same tragic story was visible everywhere as we moved from province to province and village to village. When the waters of the mighty Indus threatened Jacobabad, our media team arrived just in time to witness the desperate departure of thousands. Packed together like sardines, hundreds waited for the trains to depart for Karachi and Quetta. Many fleeing in fear had no one waiting for them at the other end. Heat, thirst and hunger were harassing them all. Crying babies, wailing women and desperate men all huddled together at the railway platform waiting for deliverance. However, the "˜saviour' trains were few and overcrowded. They were all asking for food and water.
Not far from the station began the Shikarpur Road leading to Sukkur. It was flooded with families departing with their animals, cooking pans and other household items. The relatively well off were on trucks, tractors and pickups. Others were walking behind them. Thousands of them, clinging to their valuables, were headed to some unknown direction. The mighty nature had uprooted these "˜children of a lesser god'.
Spotting a massive crowd of people from far off, we headed towards a petrol station. In the scorching heat, hundreds of women and children and a few men were awaiting relief. They wanted water and food. Dazed with heat and hunger, they complained feebly about their plight, while cries drew out attention towards two little hungry infants who were sucking at pieces of totally dry roti.
Not too far from there, a man near a railway track in Shikarpur was the lone occupant of a deserted village. He couldn't afford to hire a vehicle to take his old mother and family to safety. He looked up at the cloudy skies and said, "Allah and the Quran will save us."
This march of hundreds of thousands, if on the one hand is a testimony of human surrender to nature's fury, it also speaks volumes about the "˜economic apartheid' that prevails in our society.
Wading through muddy waters and dusty paths, in scorching heat and in the dark night, hungry parents and crying children, represented the deadly combination of poverty and damage done by a natural calamity. This mega disaster that started almost four weeks ago has magnified economic disparities existing in our society.
This epic disaster, the likes of which the world has not seen in perhaps a century, has caused huge damage.
When we look for answers beyond nature's fury, it is clear that the mega disaster is the result of mega blunders by successive governments.
Nevertheless, the challenge that the Pakistani state now faces is unmatched in modern times.
In the years to come, the tales about this flood will enter the Pakistani folklore and its documented history.
Some will say, as they do now, that this is nature's retribution against the country's elite for its relentless exploitation of the poor.
But as my young anguished Mustapha pointed out, "Why have the floods only devastated the poor? God could have moved His little finger to take the floods away from these already suffering masses." Mustapha's question about nature's "˜egalitarian spirit' will torment the compassionate for eternity. Meanwhile, the privileged can at least play an active role in the relief and rehabilitation process. Beyond this, the problem of economic apartheid requires a serious and long-term response. As Pakistan undertakes this colossal reconstruction task, can we lay down the structures and mechanisms, and initiate the processes that will create a context in which economic injustice can be reduced?