A Primordial Gender Binary
---
by:

Daanika Kamal

Date:

May 31, 2016
---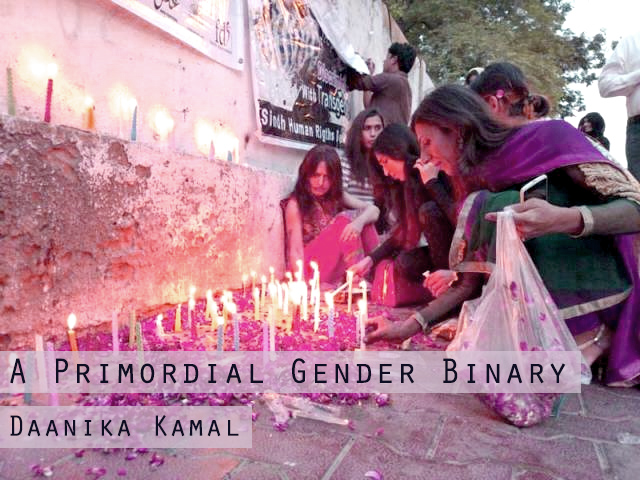 The recent death of Alisha, a 23-year old transgender activist from Peshawar, has brought in stark relief the continuing neglect and lack of entitlements faced by the third gender in Pakistan. Despite the 2009 landmark Supreme Court judgment recognizing the existence of the third gender, the absence of implementation mechanisms and protective measures for transgender persons has made this seminal ruling toothless.
Long categorized as non-conformist and subversive, the third gender has been denied their constitutional rights as equal citizens due to their inability to be categorized under a primordial male-female social binary. Premised on Article 25 of the Constitution which states that 'there shall be no discrimination on the basis of sex,' the Supreme Court had ordered provincial and federal governments to protect transgender peoples by extending basic human rights to them. These include the right to vote, the right to education and the right to inherit property. Although this ruling challenged Pakistan's conservative trends by establishing a precedent for the third gender, the legislative definition of transgender still considers it a 'gender disorder,' ultimately comparing those who identify with a third gender to disabled persons.
In a society which delays, or in Alisha's case denied medical treatment based on gender identification, implementation on the Supreme Court ruling seems distant. Alisha was shot multiple times in Peshawar earlier this week, and was denied immediate medical attention as her 'peculiar' circumstances baffled hospital attendees, who argued over whether to place her in the male or female ward – a decision which took precedence over Alisha's healthcare needs. Hospital staff reportedly asked Alisha's fellow activist, Farzana, for her contact information, rates charged for dances and sexual services, and harassed her while Alisha, still in critical condition, lay unattended in their periphery.
Where the transgender community is largely ostracized in civil society, judicial orders have little or no practical impact in bettering their social inclusion. The third gender continues to be shuffled between men and women queues when attempting to cast their electoral vote and are still denied employment in mainstream markets. Hijra or khusra are still used as epithets reflecting impotence in common (derogatory) language, and as evidenced by Alisha's case, they are still largely denied basic rights and freedoms. Most transgender persons in Pakistan are immediately associated with profanity and illicit sex work, as one commentator premised his anti-transgender stance on the idea that those who identify with a third gender 'induce straight men into homosexual encounters' and further 'make them addicted to such sexual behavior'; indicating a general misconception that the third gender is essentially finding innovative routes to indulge in 'impious' sexual activity – a fallacy which then dictates society's callous approach to them in conservative discourse. The inability of transgender persons to conform to stereotypical gender roles continues to amplify their social exclusion.
In Pakistan, the right to recognition as an individual before the law has been subject to gender-conforming prerequisites grounded in rigidity (and arguably outdated) customary notions of the male and female. In a country where more than 500,000 individuals identify with a third gender, implementing constitutional guarantees of equality that recognize and consequently protect these individuals remains a challenge. Alisha's death is one that we as a society are responsible for. Her killing is one example of social convention that trumped her right to life-saving health care, and her fundamental right to life. Questioning the authenticity of the patient's breasts and whether her blood was HIV positive, instead of urgently confirming her medical needs refracts a sharp but ugly picture of just how far Pakistan still is from rising above a gender-biased human rights approach- judicially and otherwise.
A version of this article appeared in Daily Times on 31/05/2016.
____________________________________________
The writer works for Jinnah Institute. Twitter:@daanikakamal
Please note that the views in this publication do not reflect those of the Jinnah Institute, its Board of Directors, Board of Advisors or management. Unless noted otherwise, all material is property of the Institute. Copyright © Jinnah Institute 2016