Between the Devil & the Deep State
---
by:

Fahd Humayun

Date:

June 4, 2017
---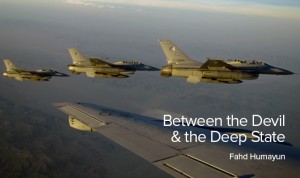 There's no shortage of irony in the fact that Prime Minister Sharif's diplomatic snub at the Arab-Islamic-American summit this month coincided with a decidedly rough patch in Pak-Iran relations. While President Rouhani was re-elected in Tehran to another four year term, Prime Minister Sharif was deprived of the opportunity to speak at a global platform in Riyadh to his country's costs in a global war on terror, its stand as a bastion against regional disorder, and unique status as the world's second-largest and only nuclear-powered Muslim nation. Another Prime Minister would have stood up and walked out. Instead, Pakistan lost a valuable opportunity to brand and buffer itself against the new regional storm brewing to its west.
Four years since Prime Minister Sharif came to power, Pakistan's foreign policy needs to be better managed and resourced. Even as Pakistani officials scramble to draw redlines vis-à-vis its participation in a controversial Saudi-sponsored Islamic Military Alliance against Terrorism (IMAT), it doesn't help that events this month have put Pakistan's delicate balancing act vis-à-vis Riyadh and Tehran on trial once again. Unhelpfully, the latest conflict trap to grip Islamabad and Tehran was precipitated by remarks made by the head of Iran's armed forces threatening surgical strikes inside Pakistani territory. General Raheel Sharif's elevation to the head of a 41-nation Sunni majoritarian military coalition, meanwhile, has once again hoisted Islamabad into the crosshairs of a hyper politicised dead-heat stretching from Syria to Yemen. On the other side of the equation, Iran's unfiltered warning to Pakistan on border tensions in the Sistan-Balochistan area has exposed escalatory tripwires between Islamabad and Tehran not seen since the low ebb of the first Afghan civil war.
Insecurity in the neighbourhood in turn carries ramped up costs for diplomatic missteps. In Iran it exemplifies the staying power of a political structure that brings together the interests of Iran's praetorian Islamic Revolutionary Guard Corps (IRGC) with those of the conservative Khamenei clergy. In Islamabad, the absence of either a formal policy statement on Pakistan's participation in another petrodollar conflict, or for that matter Parliamentary deliberation and political stakeholder consultation on Pakistan's role in IMAT, has served to undercut confidence at home in the PML-N's ham-fisted policy foray into the Middle East.
Tensions with both Saudi Arabia and Iran are likely to stoke more fires than they will put out. It's a no-brainer that any relationship left on cruise control invites diplomatic hazards, and that the PML-N government has neglected vital diplomacy with Iran at the expense of an exclusively CPEC-driven outlook. The knock-on effects are slowly becoming clear. Progress in operationalising the Iran-Pakistan Preferential Trade Agreement has been painfully slow. Pakistan's exports have dwindled to their lowest ever ebb of $35 million in 2015-16 from $800 million in 2008-09 under the previous civilian administration. There is mounting evidence to show that Iranian guns and foreign operatives routinely traffic into Pakistani territory via a border that is neither duly manned or fenced, nor monitored with cameras. The discovery and arrest of Kulbushan Jadav from Balochistan stands as a case in point. This month's clash between border guards and armed rebels in the Mirjaveh sector of Sistan-Baluchistan, and subsequent statement by the Iranian high command, have effectively rolled back some of the goodwill generated by Foreign Minister Javed Zarif's visit to Islamabad earlier this month. And it is just as likely that Islamabad's no-strings participation in IMAT will quickly obliterate diplomatic memory of 2014, back when democrats in Pakistan's Parliament not only rebuffed pressure from Riyadh and Abu Dhabi to join the war in Yemen, but commendably compelled the Foreign Office to backtrack from its initial diplomatic support for rebels in Syria.
Given Pakistan's unquestioned stakes in regional stability, and especially in seeing a peaceful resolution to the conflict in Afghanistan, it would also be a mistake to view Pak-Iran ties in isolation of Western mission-creep next-door or wedded solely to the objective of a violence-free border. On Afghanistan, Iran has gone from a junior partner to a decisive player by virtue of its expanding influence in the country's southern provinces. In addition to housing an office for the Taliban, reports now suggest that Iran has amped up its military support to Taliban commanders via its own militia proxy, the Fatemiyoun Division, made up of Afghan Shiites and founded by the Revolutionary Guards in 2013. The FD is estimated to have more than 15,000 members and is already being leveraged as an important tool to secure Iranian influence in Afghanistan. Weapons are also reportedly being flushed into Herat, Farah, Helmand and Uruzgan from Iran to ensure the allegiance of local commanders. In conjunction, two multilateral initiatives taken by Iran will be consequential in multiplying Tehran's stakes and power projection in the region, namely its decision to step up to the plate with its participation in the Russian-led Afghan peace process, and its application for membership into the SCO, now being backed by Moscow.
There are also other externalities at play that will in the coming days constrain Pakistan's regional policy choices. The Trump administration's desire to fix ties with Riyadh has resulted in negotiations around a potential $110 billion arms deal – the single largest deal of its kind in US history. And the conflict in Yemen, the stalemate in Syria, and the Republican administration's anti-Iranian bent – best exemplified by Defense Secretary Mattis's hardline position on the Iran brief – will ensure that neighborhood neutrality remains a moving target for Pakistan's policymakers.
America's approach to the Middle East is also likely to compel even moderate forces in the region to retrench in their narrow nationalisms. President Rouhani may have come out on top over hard-liner challenger Ibrahim Raisi in this month's Presidential election, but the fact remains that in Iran the identity of the President has a perceptible but limited impact on policy. President Rouhani's own moderate mandate will only help him so much in his struggle against the IRGC's generals and Tehran's powerful judiciary and security-intelligence branches. And with the Iranian armed forces increasingly emboldened by the ironclad clout of the Khamenei establishment, the tendency of the deep state to hijack national security and foreign policy will be tangibly more pronounced in the coming years.
For Pakistan, political cognizance of a testy domestic calculus in Iran will be as important as concerted engagement in all its forms, including intelligence sharing and CT forward-movement along the southern border. And for both sides, the re-appropriation of ungoverned spaces will be critical, if only to guard against the possibility of unwarranted IRGC adventurism. This is not to say that security cooperation should be the only vanguard of Islamabad's outreach to the Rouhani administration. While a parliamentary visit to Tehran last month agreed on the need for greater contact between the two NSAs, ultimately only a broad-based relationship that pivots on the ideas of geo-economics and forging common ground can help lift the mist of uncertainty and mistrust that currently clouds constructive policymaking in both capitals. Both Pakistan and Iran stand to gain huge duty fees from the development of Gwadar and Chabahar; connectivity of the two via a metaled road can not only bolster the Belt and Road Initiative but could also allow for Iranian access to Pakistani deep-sea port facilities should its own ever fall vulnerable to naval embargo. Beijing is, after all, Tehran's largest trading partner, and thus Pakistan is perfectly poised to exploit natural trans-arterial linkages between CPEC and the Persian Gulf.
Finally, at home the making of foreign policy must benefit from greater delegation, transparency and accountability; reassurances to Parliament that IMAT will restrict its focus to CT operations against Al-Qaeda and Daesh, and not inadvertently find itself targeting the Iraqi or Syrian regimes, will be a welcome start. National interest demands that regional policy decisions not be dictated by external pressure or political prejudices. With relations with three out of four neighbors currently flat-lining, the point is that Pakistan can ill-afford definitional gaps with Tehran, bloodletting along a vulnerable third border, or an ill-conceived policy jujitsu that will expose sectarian faultlines at home and complicate our regional positions abroad.
A version of this article appeared in The News on 04-06-2017.
____________________________________________
The writer works for Jinnah Institute. Twitter @fahdhumayun.
____________________________________________
Please note that the views in this publication do not reflect those of the Jinnah Institute, its Board of Directors, Board of Advisors or management. Unless noted otherwise, all material is property of the Institute. Copyright © Jinnah Institute 2017.