Changing State of Play
---
by:

Fahd Humayun​

Date:

February 26, 2015
---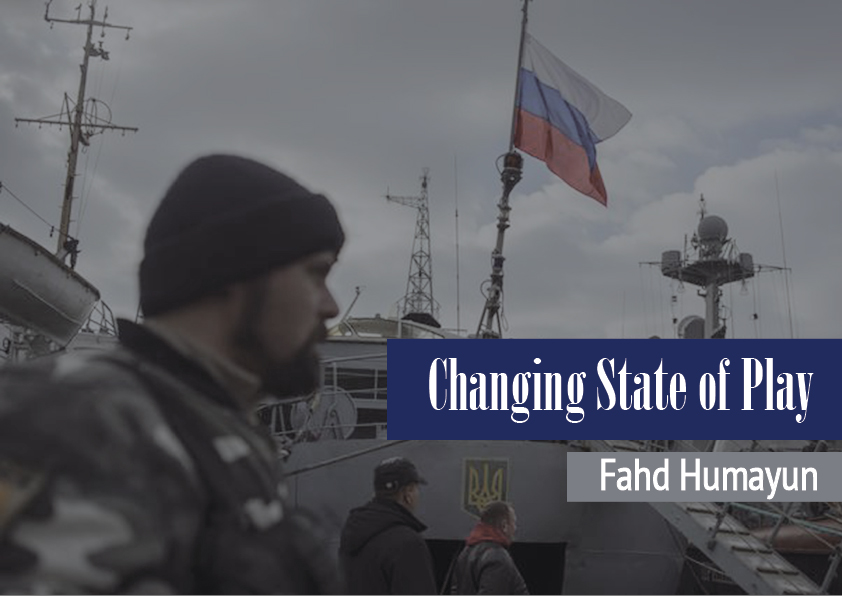 When Russian Foreign Minister Sergey Lavrov landed in Beijing earlier this month, he drove directly from the airport to meet his Indian counterpart Sushma Swaraj.
The meeting – less than ten days after President Obama's trip New Delhi – focused on the 'Druzhba-Dosti' vision document unveiled during Putin's visit to India in 2014. Back in December, Putin and Modi famously signed 20 agreements in twenty four hours.
That Russia should storm its way back onto the world stage in 2014 was unsurprising; a resurgent Russia that would challenge a Western-backed world order was largely inevitable given the machismo of the Putin presidency. More disarming, however, has been the speed at which this comeback has taken place and sent Moscow's relations with NATO into deepfreeze.
In South Asia, residual Cold War memory still haunts policymaking; in 1971, when Pakistan was nestled in the Western camp, Moscow dispatched a nuclear-armed flotilla from Vladivostok to stand between India and incoming British and American ships.
There is good reason to surmise that Russian revisionism can still change the fractured state of play in a post-2014 subcontinent. Today Russia remains the largest weapons exporter to India, with military sales worth $40 billion ranging from fighter jets to battle tanks. In 2014 India's first SSBN submarine – the 6,000 tonne Arihant – catapulted India into an elite league of nuclear states with credible second-strike capability thanks to Russian assistance, also making it the first non P-5 country to have built a ballistic missile submarine.
Last June, Russia lifted a self-imposed embargo on arms supplies to Pakistan therein signaling an opening of sorts. For Islamabad, there are strong grounds – not necessarily related to achieving strategic parity with India – for giving this undercultivated relationship its time in the sun. While five US Presidents have visited Pakistan since 1947, a Russian head of state has yet to make the trip. Putin came close back in October 2012, only to cancel last minute suggesting that relations had not sufficiently evolved for an official Pak-Russia diplomatic debut.
But a calendar of geopolitical anxieties has considerably increased the urgency for a Russia opening. And in light of a timetabled ISAF drawdown in Afghanistan and increasingly blunt grandstanding in India, honing outreach to Moscow is likely to work for two reasons: short on friends, Putin is now searching at once for both extra-regional allies, and a strategy that neatly dovetails with other Russian partnerships in the Eurasian rim.
Unlike the US, there are indications of a non-linearity in Russia's approach to South Asia that can help mitigate rather than exacerbate Indo-Pak tensions. Oil and gas exporters under the SCO are increasingly looking to tap and service new consumer markets. Russia is already rehabilitating the Guddu and Muzaffargarh power plants, as part of a wider outreach strategy to increase its continental energy footprint. Russian energy giant Gazprom has also expressed an interest in expanding its stakes in the TAPI pipeline, and providing capital outlay to develop infrastructure at Thar.
It should also be remembered that back in December – a full month before the Indo-US civil nuclear 'breakthrough' – Russian nuclear leviathan Rosatom agreed to build 12 more reactors in India by 2035 in addition to the two Kudankulam facilities.
Faced with Western belt-tightening of the Russian economy and a ruble in free-fall, Putin is deflecting from EU capital, to proactively pivot Moscow's position in a Pan-Asian arms and energy market. This in turn can sustain an imperative Russian defense economy.
Security-wise, too, an engaged Russia matters. As Pakistan cleans up its tribal agencies, the danger of a militant retreat to the North Caucasus and Central Asian host clusters makes Russia an important stakeholder in regional counterterrorism initiatives. And Moscow's support role in the Northern Defense Network will keep it engaged in Afghanistan through 2016.
For all his boisterousness when it comes to the Slavic beltway, Putin is unlikely to hedge his bets on a peaceful South Asia, given India and Pakistan's simultaneous application for SCO membership. Russia's recent expression of interest in sitting in on talks with the Afghan Taliban, brokered by Beijing, further reflects that a post-2014 vacuum could expedite South Asia's transformation from a near-abroad 'peripheral' to core Russian interest. Moscow will not be looking to bankroll an arms race here either, given the subcontinent's geographical proximity to urban Russia.
As China rises and Russia resurges, there will unlikely be a single net-provider of security in the Asia Pacific. Given their lukewarm historical experiences, Russia and Pakistan may never be natural partners. But fostering Pak-Russia relations – not as a counterbalance to Indo-Russian solidarity, but as a transcontinental partnership with stakes in a stable and interconnected South Asia – will help Islamabad in realigning regional priorities. Nor should an opening between Moscow and Islamabad be read elsewhere as a zero-sum upset. There is, after all, value in moving with the times.
​Fahd Humayun works for Jinnah Institute's Strategic Security Initiative. He tweets @fahdhumayun.​
A version of this appeared in Dawn on 26/02/15 under the title 'Russian Opening'.
Please note that the views in this publication do not reflect those of the Jinnah Institute, its Board of Directors, Board of Advisors or management. Unless noted otherwise, all material is property of the Institute. Copyright © Jinnah Institute 2015