Childhood Deserves Better
---
by:

Meera Nadeem

Date:

May 24, 2019
---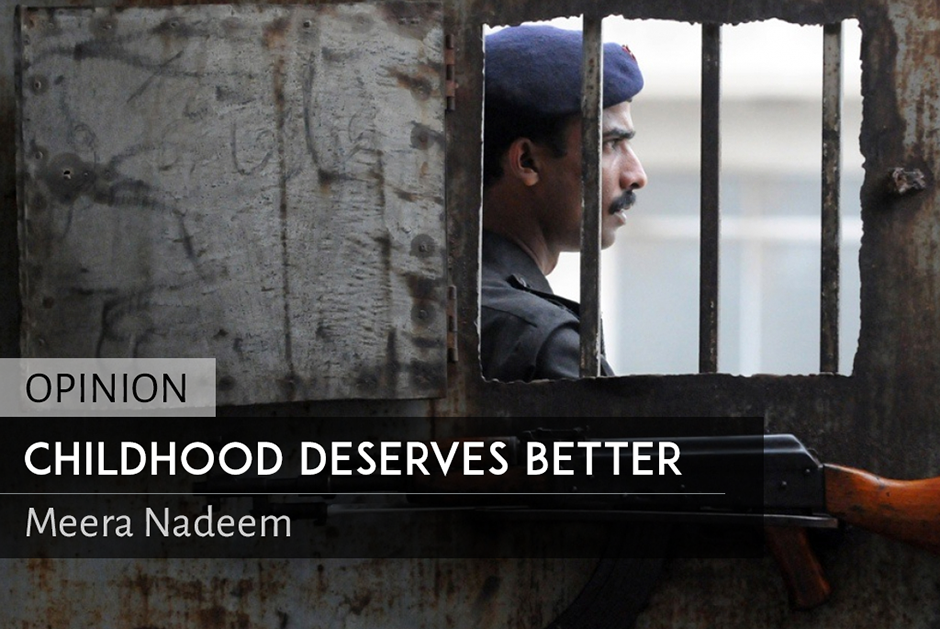 A
nother gruesome murder and rape of a minor has caused wide public outcry across Pakistan. Pakistan's civil society, as well as the Prime Minister and military leadership have condemned the incident and demanded that justice be served, and offered assistance in apprehending the offender. The hostility shown by law enforcement officials towards the child's father, and refusal to register an FIR regarding her abduction, has brought anger and resentment against corrupt police practices.
The molestation and murder of 10 year old Farishta Mohmand is the second highest profile case after Zainab Ansari in a year that has sparked nationwide outrage and highlighted the rampant sexual predation of children in Pakistan's deeply conservative society, where reported cases constitute a fraction of the total number of incidents. According to Jinnah Institute's data, 38 cases of child sexual abuse have been reported between January and April 2019 alone, of which 11 include homicide, and reveal an increasing frequency since 2017. Civil society organizations tracking child abuse figures confirm an upward trajectory as well as greater impunity with which these attacks are taking place. Both boys and girls are vulnerable to sexual predation at younger ages, although statistics show girls to be at higher risk, especially in rural areas where the majority of cases involve family members or acquaintances who perpetrate abuse over prolonged periods. Most victims are between ages of 6-10 and 11-15 years.
A year ago, Zainab's murder brought about calls for extreme retribution for perpetrators of sexual violence, to set a demonstrable penal precedent that should deter others. There were demands to publicly hang Zainab's murderer, a close acquaintance of her family, and serial killer of eight other minors who was handed the death penalty in October 2018 by an anti-terrorism court. After his hanging, Zainab's father regretted that the capital punishment could not be telecast live.
Unfortunately, there has neither been a let up in sexual violence since the Zainab case, nor is there any evidence of upgraded judicial or police capacity to reduce or process cases of sexual violence. On the contrary, SHO Rana Abbas of Shehzad Town Police Station caused grave insult and distress to Farishta's family by insinuating that the child had eloped with someone and then ordered them to clean the police station. Rana Abbas and Investigating Officer ASI Nasir have since been arrested.
Incidents like this completely undermine citizens' confidence in law enforcement agencies' responsiveness to public needs. Police reforms underway since almost two decades after the Police Order of 2002 need to demonstrate that thana culture has fundamentally changed for the majority of Pakistanis, who see police stations as the primary locus of justice provision. If this is the result of two decades worth of investments in police training and sensitization, it calls into question the ability of law enforcement agencies to alter their deep-set institutional practices.
The recently published Police Reform Report (2019) summarizes two decades of learnings from police reform programming, and reveals internal mechanisms for disciplining police officials whose conduct is unworthy of public service. However, it does not goalpost the fulfilment of citizen's human rights as a deliverable, nor provide any framework of indicators that connect human rights concerns with policing imperatives. The tragic Farishta case definitely provides an instructive moment for Pakistan, where civilian law enforcement institutions should reflect foremost on their service deficits and role in perpetrating suffering for the disempowered.
Moreover, the strong urge for retribution and meting out harsh punishments to perpetrators of crime is all too familiar in a society accustomed to poor justice provision. But penal procedure must never be turned into a public spectacle – as demanded by Zainab's father – as it reinforces the continuum of violence among citizens and justice providers alike, and desensitizes them to loss of life and dignity.
Finally, communities must be equipped with knowledge on child protection. There has to be an open debate on the crisis of child sexual abuse in Pakistan that engages children, education institutions, justice providers including police, and media houses in a sophisticated information campaign aimed at prevention, protection and recovery. The Ministry of Human Rights has initiated such a campaign in conjunction with the National Commission on Child Welfare and Development (NCCWD), as well as the implementation of a juvenile justice system, child-friendly courts and school protection committees. Prominent lawmakers have tabled bills in parliament seeking protections for children from violence and abuse.
These are critically important steps that require resources and public interest to become effective over time. Given the exponential rise of child sexual abuse cases – of whom only ten are reported every day – our efforts as citizens, lawmakers, policy practitioners and human rights defenders is to raise the bar on child rights implementation, and not allow our children to become victims.
To access Jinnah Institute's tabulation of incidents of violent extremism from Jan 2019-May 2019, please go to our Hate Tracker.