Committing to Equality for Street Children
---
by:

Madeeha Ansari

Date:

April 12, 2019
---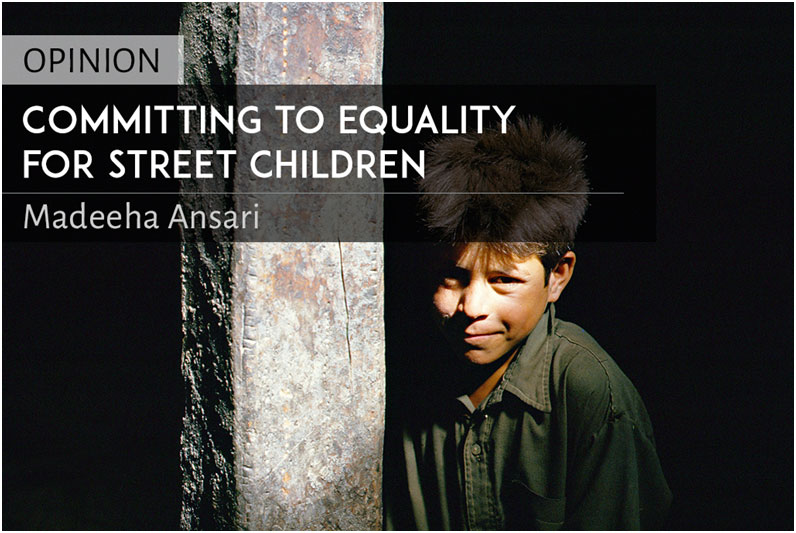 Madeeha Ansari
April 12 is a day for the invisible. As the International Day for Street Children, it is a time to extend recognition to young people who are too often uncounted, unseen and unheard – and therefore bereft of fundamental human rights.
Pakistan is unique in being a country where street children have been acknowledged by the government as a policy priority. They were mentioned in the Prime Minister's very first address to the nation, and again as part of the "Ehsaas" poverty alleviation programme.
While this is truly laudable, there are a few things to remember in order to drive systemic and not superficial change. "Street child" in itself is not a monolithic identity, but is a way of clustering together the challenges faced by children in urban poverty. The International Day for Street Children extends recognition to a range of young people on the margins of cities – refugees, IDPs, migrants, street vendors, child beggars and even domestic workers. Many of these identities can be overlapping, which make policy and programme design more complex than is first assumed.
From the policy angle, there is an important distinction between children "on" the street – who work or spend time on the streets – and children "of" the street, who are unaccompanied. Street-connected children who do have families to return to still face insecurities that threaten their childhood. Those who live in slum communities often lack security of tenure and face constant threats from municipal authorities. Only last week, a settlement was demolished in sector E-12, Islamabad – not long after the announcement of the Ehsaas social protection programme.
Another prickly issue is to do with children from refugee backgrounds. Progressive intentions on the part of the government to provide citizenship opportunities to Afghans were waylaid by backlash. This means that in order to avoid involuntary repatriation, some families prefer to remain under the radar. Being unregistered makes families vulnerable to a range of risks including exploitation, and bars children from accessing rights like education.
This begs introspection on the part of the administration as well as the public. To say, "We will protect street children" will get unanimous approval – but are we going to be selective in our benevolence?
The bedrock of a rights-based approach is non-discrimination. It is to say that every child, regardless of background, deserves basic services, protection and dignity. For some street children, this might mean access to the kind of residential centres that have been planned by the government in provinces like Sindh and Khyber Pakhtunkhwa. For others, it could mean plans to provide affordable housing for families, and strategies to combat the poverty or violence that keep runaway children from returning home. Otherwise, there is a danger of embarking on ventures that are less than successful – because they were designed for the idea, not the reality of a street child.
The first proposed step of the Ehsaasprogramme is indeed to create a strong enabling environment, through a constitutional amendment acknowledging food, shelter and education as fundamental rights. In the kind of state we are aspiring to become, therefore, no one would be left behind. The factors that lead children to live or work on the streets would be addressed at the roots, with viable alternatives being provided.
Moving from paper to practice is a sizable challenge. For everything that is to follow a legal commitment, one radical idea would be to consult the actual young people to be served by state policy. This would mean looking at street children as individuals and agents, not just passive victims deserving of pity. An asset-based approach would draw upon their strengths and the knowledge they have of their own circumstances.
Street-connected children can be resilient, vibrant individuals with sometimes innovative strategies to cope with uncertainty on the streets. The first step was seeing and naming them; the next steps should be counting them and listening to their stories. Having an idea of numbers of children "on" and "of" the streets, understanding where they come from would help guide the use of resources. As many commentators have said, a welfare state can be a beautiful but expensive vision – so it makes sense to do the homework before designing solutions.
April 12 is a day when the different identities of young people on the margins of cities coalesce into one recognizable form. However, if we are to follow this year's theme and truly "Commit to Equality," we need to recognize their different faces. From the Afghan refugee to the Punjabi migrant moving for a better economic future, every child facing the risks of urban poverty deserves what is being promised plus a little more: a home where she doesn't sleep hungry, a safe space in which to learn and play – and a voice that is heard.
Madeeha Ansari is Founder of Cities for Children, a non-profit that develops programmes for street children.