D-Penalty to D-Chowk
---
by:

Daanika Kamal 

Date:

April 20, 2016
---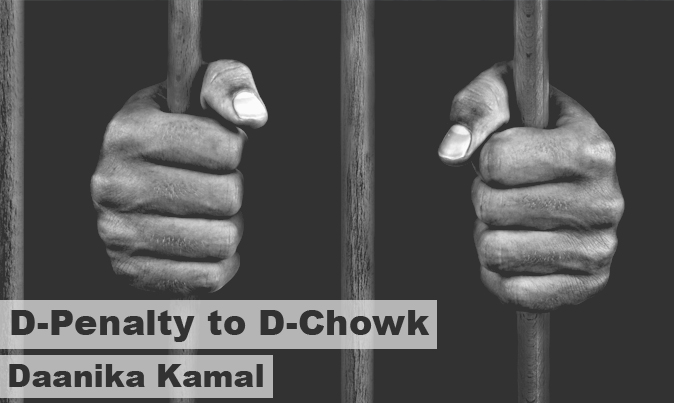 The protests that followed Qadri's execution were not instituted on a remonstration of capital punishment
There is a disconnect (and at times an overlap) between those rallying against the death penalty and those rallying against Mumtaz Qadri's execution. Those protesting Qadri's death for reasons solely concerning their animosity towards the death penalty as a means of execution are starkly different from those protesting Qadri's death warranted on claims of religious retribution linked to his apparent martyrdom. The former is a principle, and the latter an individual.
Making this distinction is essential in distinguishing between masses of fanatics protesting outside parliament with a list of (undue) demands, from those using social media to rally for a human rights initiative — the right to life — which inevitably gets complicated when criminals are sentenced and subsequently executed by the death penalty.
The death penalty as a concept has been repeatedly shunned on a global scale. International human rights agencies frequently put discussions of death penalty on their agendas, with over 140 countries having now abolished this means of punishment for all crimes. In Pakistan, the death penalty remains highly prominent, with over 330 executions in the last two years. Those opposing capital punishment tend to be against it regardless of the crime, verdict, or method of execution, and usually have similar reasons for doing so: its inhumanity, irreversibility, lack of crime deterrence and discriminatory tendencies.
However, the protests that followed Qadri's execution were not instituted on a remonstration of capital punishment. Here, they were grounded more so on the distaste that followed the execution of a man who was seen as having heroically displayed his ardent and resolute responsibility towards Islam — a justification that our public finds more alluring than the prosecution of an avowed murderer who was tried according to State law (contentious as that may be), and subsequently given a sentence that the courts deemed most suitable.
Last Sunday, after a violent interaction with law enforcement agencies, Qadri supporters found their way to D-Chowk and distributed a pamphlet consisting of ten demands that had to be met in order for the several thousand-person rally to disperse from outside the parliament building. The demands, unreasonable at best, are unfortunately as ludicrous as they are terrifying. They include declarations of Qadri being a martyr, directing media outlets to use shaheed (martyr) before his name during all concerning correspondence, and demanding that all those arrested or convicted for extra-judicially killing blasphemers are promptly granted immunity for their actions under the state run exclusively and entirely on the Sharia'h law. In true spirit of their 'idiocracy', they demanded Qadri's prison cell in Adiala jail be declared a national heritage, and expectedly called for a ban of all 'secular NGOs'.
Qadri using extra-judicial means to rectify his understanding of religious wrongs, if left unpunished, would have legitimised the already high number of persons who take on self-proclaimed religious duties with the notion that it is more righteous (and therefore, in their minds, more effective) than Pakistan's state-based operatives. Following a demand for state-based immunity with a demand for a full-proof Sharia'h law system would be redundant if the public has already decided to operate on impulsive man-made laws. Further, demanding that the death penalty be staunchly upheld and those currently on the death row for blasphemy be executed immediately, is a direct contradiction to the second group of social media activists protesting Qadri's death for reasons solely based on the punishment itself.
A common misconception in society enables some to be sympathetic towards the post-Qadri movement (if you will) because they mistakenly believe that protests are for the way he was punished. If there were masses of individuals camped outside the parliament protesting the death penalty, our response, understanding, and tolerance would be grounded on the notion of using human rights to remedy political wrongs. However, those who occupied D-Chowk were jamming our mobile signals and holding Pakistan's capital hostage for reasons that can only be attributed to their ignorant bigotry. Understanding the difference is essential in maintaining the little lucidity we have been left with.
A version of this appeared in Daily Times on 06/04/2016.
____________________________________________
The writer works for Jinnah Institute. Twitter: @daanikakamal
Please note that the views in this publication do not reflect those of the Jinnah Institute, its Board of Directors, Board of Advisors or management. Unless noted otherwise, all material is property of the Institute. Copyright © Jinnah Institute 2016