Endangered at Home: Domestic Violence and Provincial Legislation
---
by:

Maliha Zia

Date:

September 13, 2017
---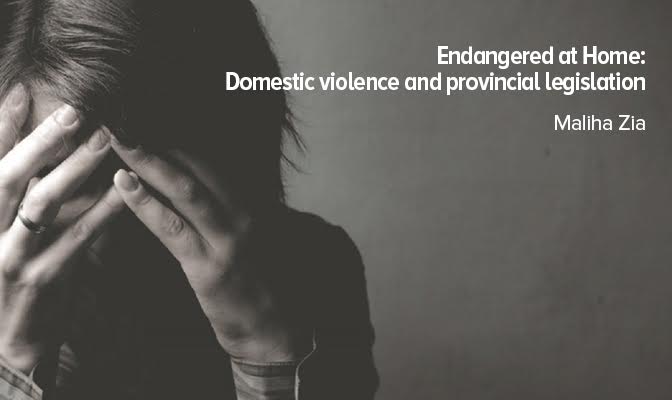 The schism between Pakistan's legislation and social realities is perhaps best reflected by domestic violence. It would be reasonable to assume that the enactment of legislation against domestic violence in three provinces, and the tabling of a bill in Khyber Pakhtunkhwa, demonstrates a steady decline in both the tolerance of, and social sanction for violence at home. But daily occurrences of violence against women and the purposeful vagueness in language of domestic violence legislation betrays another truth.
Unfortunately, domestic violence remains a politically divisive issue in Pakistan. This divisiveness accompanied by a diversion in views on what constitutes domestic violence is best represented by the differing language and definition of domestic violence in each provincial law. In Sindh, it is recognized as a crime with criminal penalties. In Balochistan and Punjab, a legal definition is provided by law but it stops short of criminalizing violence at home, instead choosing to focus on protection remedies. In the case of Punjab, the province has gone one step ahead to focus on improved response mechanisms.
The proposed KP legislation is the most controversial thus far, stating under Section 22 that "nothing in this Act applies to corrective measures taken by parents or spouses within the constraints of the injunction of Islam, as laid down in the Holy Quran and Sunnah." Whilst in name the draft law purports to create an offence of domestic violence, in practice it gives legal cover to such acts of violence if they are deemed to have been "corrective measures" – a term not defined by law. This raises a basic question. What then defines domestic violence in the first place?
As a result, few, if any cases, have been filed under respective laws. Commonly, cases of violence result in divorce without any formal criminal charges. Society still fails to see it as an offence unless serious or grievous harm or hurt is evident. Worse still, in many cases domestic violence is considered a norm, often shifting the onus of decision making onto the victim to decide whether or not she can put up with it.
The unwillingness of state institutions in unpacking and implementing the law at the local level, coupled with the society's social sanction raises serious questions about the effectiveness of legislation in the face of societal resistance.
No real efforts have been made to implement existing laws. Sindh and Balochistan, which are meant to form protection committees and appoint relevant officials, have yet to do so. One of the first court cases under the Sindh law has only recently been initiated. Even there, the judge has struggled to understand the object of the law and concepts behind it. It would seem that the judiciary too has made little effort in both understanding the law and as a result, ensuring its effective implementation.
However, despite the challenges faced in implementation, these new laws against violence at home have freed public discourse on a hitherto taboo subject, often limited to select groups of activists and rights advocates. This discourse is welcome as a starting point towards creating positive change even though the text of the law on its own, and as the only step in curbing violence, is insufficient and ineffective.
It is essential to go back to the basics and work towards addressing issues of the public/private divide, women's agency and their right of life, security and dignity. "Corrective measures" and other such approaches must be challenged within the social framework alongside the legal.
Working with civil society is essential in order to recognize and identify domestic violence as an anomaly. The day to day violence and its impact must be enunciated and identified. The issue must be seen as a core concern from within. Key stakeholders such as the police and judges must also understand the issue as it stands. These stakeholders are often the first point of contact and play a crucial role in supporting the victims. Thus, "understanding the issue" includes not just being able to identify it, but also recognizing the short and long term impacts of it on direct and indirect victims. They must also recognize the impact of their own interventions or lack thereof. For example, the danger they place a woman in if they mediate the matter and proceed to send her home with her husband.
Domestic violence cannot be stopped with the passage of a law. It requires a long term multifaceted approach which addresses social norms and attitudes while also working with justice actors to ensure adequate response. Neither the State nor civil society should be allowed to rest on the laurels that a law has been passed. The government must be challenged for its inaction in taking further steps beyond merely passing a law, and civil society must be challenged for not playing an effective enough role in the response to this lethargy of the State.