From Moscow, with love
---
by:

Fahd Humayun

Date:

February 11, 2017
---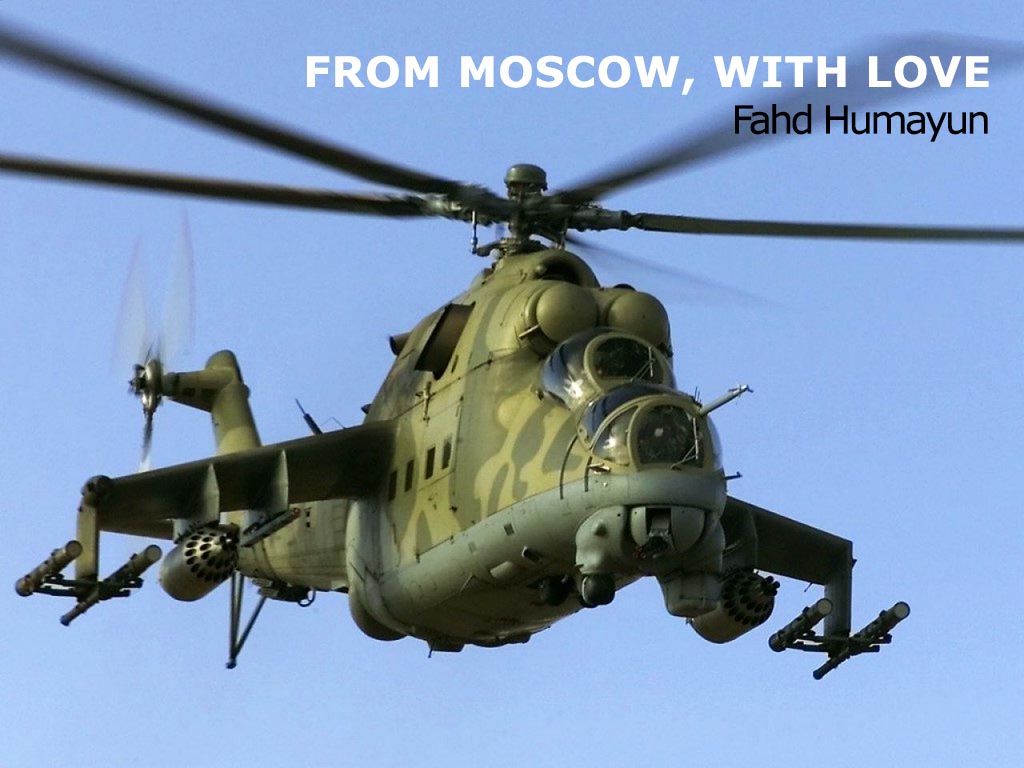 As Islamabad grapples with the uncertainties of a new Trump administration, a recent timeline of Russian advances to Pakistan is not inconsequential.
In 2016 both sides reaching a price accord on a $2 billion North-South LNG pipeline running from Karachi to Lahore in 2016. Russian and Pakistani Special Forces held their first joint tactical exercises last September. Later this month Russia will host six-nation talks on the future of Afghanistan, without the US, as a follow-up to a December conference as an index of Moscow's rising stakes in the regional endgame. And in December, Pakistan's Minister for Defense Production announced a Russian agreement for the delivery of four Mi-35M (Hind-E) attack helicopters to the Pakistan Army in 2017. The disclosure follows the lifting of a self-imposed Russian embargo on arms supplies to Pakistan back in 2014.
What best explains Russia's newfound attentiveness towards Pakistan and the region? Beyond the obvious dismantling of Cold War conventions, there is a tendency among Pakistani policy implementers is to play up Russia's eagerness to cash-in on Pakistan's CPEC opportunity. While this is a convenient explanation, influenced no doubt by a canonical Soviet yearning for warm-water access, it undersells Russia's broader geopolitical aspirations as well as the changes proffered by the confusion of Eurasia's own post-unipolar moment.
Since 2011, Russia has come under mounting pressure in two obvious areas of geostrategic latitude: Eastern Europe and the Middle East. With NATO batting down the hatches to the west, Russia's relations with Europe are set in deep-freeze. Given Western lobbying to drive Moscow away from Europe's energy markets, Russia has been looking to offset geopolitical setbacks with an eye closer to Asia. Buoyed by a Russia-Turkey brokered (albeit fraying) ceasefire in Syria, there is growing political pressure in Moscow to reassert primacy closer to home, to compensate for an encircling snare of Atlantic Alliance partnerships from the Far East all the way to New Delhi. This reassertion is expressing itself unilaterally (intervention in Ukraine), bilaterally (heightened diplomatic engagement with other members in the Asian hemisphere) and multilaterally (Moscow's amped up leadership role in the SCO, BRICS and Afghan consultation forums).
The Kremlin's appointment of Zamir Kabulov as Presidential Envoy to Afghanistan and Pakistan, and head of the Russian Foreign Ministry's Asia and Middle East Department, also signals a strategic rethink about how Moscow views the Pakistan-Afghanistan beltway. Russia concurrently has two overriding strategic objectives vis-à-vis South Asia. The first relates to the investment of diplomatic capital in a way that builds vital strategic equity to check the US rebalance in Asia. The second is to address the dangers of Daesh emanating from the Khorasan region, now threatening to breach the Central Asia ridgeline, and potentially disturb Muslim-majority pockets in Russia's southern tracts. Recent statements from Moscow on the need to cooperate with Islamabad in the building of an anti-Daesh firewall point to Russia's recognition of the need for strong counter-terror partners in South Asia. December's trilateral summit held on regional security underscores this point further. In Afghanistan, meanwhile, Moscow's engagement with the Taliban remains driven by similar CT-security concerns. Russian diplomats and intelligence maintain private communication channels with the Afghan Taliban leadership, which, crucially for Kabul, may end up being an important conduit of influence when the fighting season gets underway later this spring.
At the same time, Russia will continue to keep Pakistan and India de-hyphenated because it suits its own regional interests and larger strategic ambitions. Moscow remains India's largest weapons seller, having recently agreed to supply India with S-400 air defense systems and stealth frigates for the Indian Navy. By extending the range of the BrahMos missiles to over 600 kilometers, Russia has also helped nurture India's deep-strike capabilities.
While engaging Moscow, then, Pakistan needs to be aware that Putin will be more likely to play the field rather than take sides in any future Indo-Pak conflict. At the Heart of Asia summit in Amritsar, like the BRICS summit in Goa, Moscow declined to add its voice to India's calling for the isolation of Pakistan. Instead, Russia will look to quietly build up relations with Pakistan while maintaining its investments in India. Russian engines presently power the JF-17 Pak-China combat aircraft rolling off assembly lines in Pakistan, and Russo-Pak defense cooperation is growing. A recent photograph of a Pakistan Air Force Ilyushin IL-78 re-fueling tanker in the Russian city of Ryazan indicates that Russia may also be refurbishing the tanker; if correct, this will be the first transaction between Russia and Pakistan that supports the latter's conventional military capabilities.
But keeping Russia engaged will require Islamabad to expand its horizons as it thinks about the next decade of its international relations. While the Kremlin's 2008 Foreign Policy Concept declared Pakistan as a key regional power, Pakistan disappeared from the concept notes of 2013 and 2016. Furthermore, bilateral trade between the two countries decreased between 2014 and 2015.
Even with the realisation that Pakistan is unlikely to become the torchbearer of Russian interests in South Asia, there are a few things Pakistani policymakers can do to keep Moscow interested. The first is to take advantage of a historically weak rouble and a Russian Presidency looking to reassert itself regionally. Islamabad can do this by retrofitting its own outreach to the CARs to accommodate the potential for closer Pak-Russo cooperation. The North-South pipeline is the first major instance of Russian investment in Pakistan after decades of estrangement. Russia is also assisting OGDC – Pakistan's largest hydrocarbon explorer – in the search for new energy sources. And after initially denying media reports that Russia was set to join CPEC, Russia's Ambassador to Pakistan Alexey Dedov has now clarified that Moscow and Islamabad have indeed held discussions to merge the Corridor with the Russian-sponsored Eurasian Economic Union. Pakistan accession as a full member-state of the Shanghai Cooperation Organisation later this year provides another platform for Islamabad to pivot itself in an increasingly competitive Pan-Asian arms and energy market. And short of falling into another ill-advised client-patron trap, Islamabad could consider scaling up soft-power mobilisation and the all-important issue of skills transfer, to go hand-in-hand with the search for new policy-sphere partnerships with Russia.
With the Russian Land Forces Command having confirmed that a second joint exercise will be held with Pakistan in 2017, there is certainly space to reengineer the diplomatic relationship. Seventy years since Independence, a Russian head of state is yet to visit Pakistan. Moscow's own economic situation is increasingly tenuous, owing to a combination of Western sanctions and falling oil prices. In an increasingly competitive world market, Russia is looking for new buyers, a new strategic role, and new friends. And while a hyper-engaged Russia may still be a few years away, a little perestroika wouldn't hurt as Pakistan looks to configure its own strategic trend-lines in response to Moscow's overtures.
A version of this article appeared in The News on 11-02-2017.
____________________________________________
The writer works for Jinnah Institute. Twitter @fahdhumayun.
Please note that the views in this publication do not reflect those of the Jinnah Institute, its Board of Directors, Board of Advisors or management. Unless noted otherwise, all material is property of the Institute. Copyright © Jinnah Institute 2017.