Honoring Aitzaz Hasan: Fighting the Demons of Sectarianism
---
by:

Sehar Tariq

Date:

January 11, 2014
---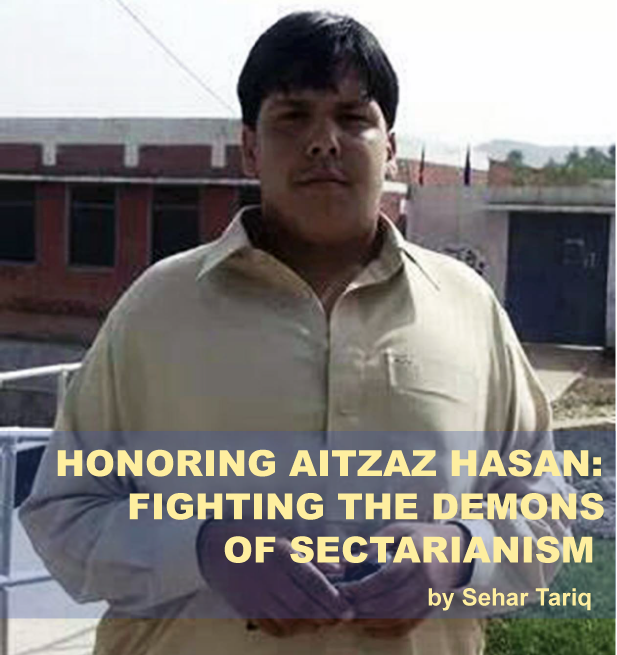 On the morning of January 6th, Aitzaz Hasan lost his life while preventing a suicide bomber from entering his school. The only thing standing between the 2000 children enrolled in the local Government High School Ibrahimzai in Hangu and a suicide bomber sent to kill them was the courage of this teenager.
The Lashkar-e-Jhangvi has claimed responsibility for this attack which targeted a school in a Shia majority area of Hangu. The LeJ has a history of targeting members of the Shia community in Pakistan and have been behind some of the most violent and deadly attacks against Shias. This attack, foiled by the sacrifice of Aitzaz, is a sobering reminder that the beast we fight has no morals or principles. Our enemy will stoop to even attacking a school full of children.
The attack on the school in Hangu was not part of the series of attacks against schools that have occurred in KPK. It was a part of the Lashkar-e-Jhangvi's violent campaign against the Shias. Aitzaz lost his life fighting the enemy we call sectarianism that pre-dates the war on terror or the use of drones in Pakistan.
Let Aitzaz's death leave us in no doubt that this war is our war. These are monsters of our own making who have gained strength from our complacency.  In the wake of his death, we have mourned him and glorified him in the media. We have tweeted tributes and eulogies. The government has decided to honor Aitzaz (posthumously) with the Sitara-e-Shujaat, a civilian award for bravery in the country. But justice will not be done to the memory of Aitzaz until we commit to eradicating groups responsible for sectarian violence as well as the ideology that supports and nurtures them.
This is no easy task. This requires us to root out the hate that is entrenched within our textbooks, that is sown in sermons across Pakistan and casually thrown about in drawing room conversations. This requires cutting of funds and financing to groups that parade as charities and collect large sums of money from small traders and individuals. This means severing political alliances with groups that control urban centers within the province of Punjab and adopting a zero tolerance policy for perpetrators of sectarian hate.
The battlegrounds for this war will not be the wilds of FATA but the settled areas of Punjab. This war will require us to arm, equip and train the police force. The nature of this battle will be different from the one that is being waged against the TTP in the tribal areas of Pakistan. This battle will be tougher. But this is a war we must fight and win if we are to preserve Pakistan. And we cannot continue to outsource our toughest battles to children no matter how courageous.
 There is need to provide the police with the protection and equipment required to operate against these groups who are heavily armed and well funded. In recent years, with the focus on the war on terror not enough has been done to provide the police with the protective or investigative gear required to take on sophisticated terror networks. Pakistan must invest more in the police force which will have to form the frontline against the war on sectarian terrorists.
 Pakistani author, Nadeem Aslam once said, "Pakistan produces people of extraordinary bravery. But no nation should ever require its citizens to be that brave." The average citizen should never have to make the choice that Aitzaz made. The state should be equipped to protect him or her. Pakistan should not have to count on the bravery of individuals like Aitizaz Hasan as its only defense against sectarianism. There needs to be a better plan in place.
 I hope that when President Mamnoon Hussain stands before Aitzaz's father to present him with the Sitara-e-Shujaat for Aitzaz; it is not just a medal that he pins to his chest in honor of a courageous son. I hope that award is accompanied with a concrete strategy for ensuring the safety of children like Aitzaz across Pakistan. Aitzaz's memory demands it and the existence of Pakistan needs it.
Please note that the views in this publication do not reflect those of the Jinnah Institute, its Board of Directors, Board of Advisors or management. Unless noted otherwise, all material is property of the Institute. Copyright © Jinnah Institute 2014)