Karzai in Pakistan – Tailoring Great Expectations
---
by:

Fahd Humayun

Date:

November 29, 2013
---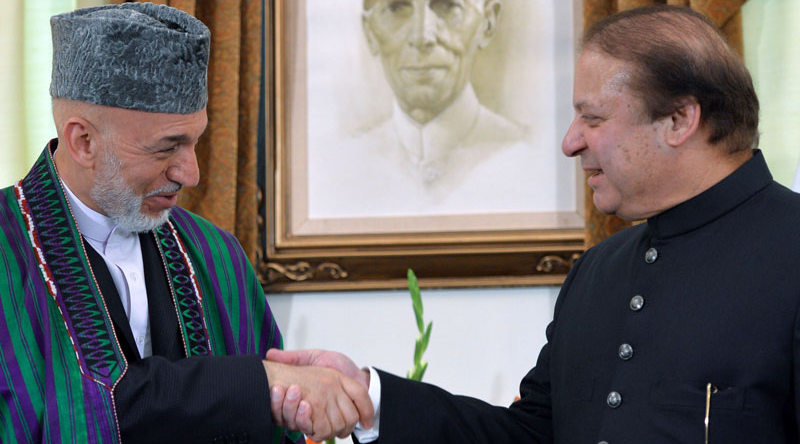 He flew into Pakistan from Kabul on Monday with a tightly scheduled ten-hour itinerary in hand, only to later announce his decision to extend his visit until Tuesday and lunch with Prime Minister Nawaz Sharif in Murree. Until late Monday afternoon the rumour mill was in overdrive with speculations that he would eventually fly out with a released Mullah Abdul Ghani Baradar, and possibly other key political prisoners, amidst a blitz of international publicity.
But there was no mention of Ghani Baradar – Mullah Omar's deputy and leader of the Quetta Shura who was arrested in Pakistan in 2010 – in the official press conference that saw a beleaguered Karzai and cautious Nawaz Sharif smile for the cameras. For the Karzai administration, which is short on leverage and now facing a closing window of opportunity given upcoming presidential elections in April 2014, the release of Afghan prisoners remains a crucial step in building a coalition of interlocutors and negotiating partners for a successful intra-Afghan dialogue.
The press conference that followed the Nawaz-Karzai meeting itself was lukewarm at best. Both leaders pandered to their "constructive engagement" vocabulary, going to lengths not to point fingers or antagonize sentiments. While Karzai focused on the need to jointly combat militant violence in his statement, the content of both speeches was light on specificities. Instead, while Nawaz Sharif acknowledged that both sides needed to "turn the tide of conflict," the three-time Pakistani premier was keener to emphasize the economic – and therein energy – denominator. Indeed, headway made in the finance ministers' evening meeting was considerably more noticeable: implementation of the Transit Trade Agreement, an early completion of the Torkham-Jalalabad additional carriageway, and an early implementation of CASA 1000 were amongst the many initiatives announced.
After months of bilateral tensions, exacerbated by frequent border shelling, last week football teams from the two countries met on the playing field in Kabul for the first time in 10 years. President Karzai's visit to Islamabad this week, accompanied by a high-level delegation, marks his first visit to the country in 18 months and first since Nawaz Sharif's government was elected to office with a landslide majority in May. Within Islamabad, the power trip is seen as carefully engineered attempt by Kabul to rejuvenate a moribund peace process with the Taliban, as well as heal a heavily frayed relationship and trust deficit with Pakistan. The meeting between the two leaders comes after weeks of official and diplomatic hedging around proposed dates, and the agenda for discussions is already mired in complications. Back in Kabul the headlines of major Afghan newspapers including the Daily Hasht-e-Subh are skeptical at best about the outcomes of such negotiations. That the Afghan president's visit is aimed at gaining some traction on an increasingly hindered Afghan reconciliation process is clear. However, less clear is the expected outcome of his wish list of demands from the newly inducted Pakistani government, including a request that Islamabad use its clout and contacts with the Taliban to facilitate an intra-Afghan dialogue between the Afghan High Peace Council and Taliban representatives.
Crucially, Karzai's trip comes days after Pakistan's maiden meeting of the Defence Committee of the Cabinet (DCC). The implications of the federal government's decision to establish the Cabinet Committee on National Security (CCNS) as the highest policy review on defense and security affairs will be tested as Islamabad sets out to recalibrate its Afghan policy. Tensions between the two sides have grown in recent months with sustained allegations from Kabul that the Afghan-Taliban are using Pakistani soil, and help from Pakistani intelligence networks, to launch westwards attacks. In addition to testing Pakistan's new foreign policy apparatus, Karzai's visit is also a trial for Nawaz Sharif's newly declared Afghan policy; on August 19 Sharif announced, "We have to think afresh about Afghanistan. We have to devise a strategy which will enable Pakistan to be recognized with a new shining face all over the world." Yet, since yesterday, the Pakistani prime minister has been politely cautious in his overtures to the Karzai delegation, no doubt wary of Karzai's erratic track-record on diplomacy with Islamabad. Notably, Tuesday's Murree meeting was also attended by General Ashfaq Parvez Kayani and the Advisor on Foreign Affairs Tariq Fatemi – a subtle endeavor to show that Islamabad's Afghan policy is coordinated and on the same page.
Within Pakistan itself, another power realignment is expected as the country's army chief General Kayani prepares to step down in November after six years in office. Simultaneously, Karzai's own push towards Islamabad is perceived as an attempt not to be sidelined from the regional political theater as his term in office comes to a somber end. As foreign combat troops prepare to withdraw in 2014, the Afghan president is also yet to sign a bilateral security pact with the United States setting out how many American troops will stay after the NATO mission ends in 2014. Talks on such an agreement collapsed in June over the protocol issue after the opening of a Taliban office in Doha, the display of the Taliban flag and a plaque reading "Islamic Emirate of Afghanistan." In July, Karzai's chief of staff Karim Khorram described the Taliban office in Doha as a ruse to break up Afghanistan, orchestrated by either Pakistan or the United States.
Since the July debacle, the government in Kabul has increasingly come to view Pakistan's role in facilitating Afghan political reconciliation as paramount. Senior political analyst Zahid Hussain stressed the importance of interactions such as Karzai's visit, even if they were short on breakthroughs: "It's a good opportunity for a Pakistani leader to understand the view point of his Afghan counterpart, but for major progress in the relationship there needs to be [even] more interaction." Ambassador Sherry Rehman, however, harboured a more nuanced opinion on the outcomes of the Afghan president's trip: "His inclusion in the talks with the Afghan Taliban is a heavy lift that Pakistan has promised to work on, but it's not an ask anyone can adroitly deliver on, given the Taliban's consistent refusal to talk to Karzai."
In less than twenty days time, the registration process for a fresh slate of Afghan presidential nominees will officially begin. Karzai now has a narrow window to define his legacy and ensure his safety in the post-2014 calibrations that will decide Afghanistan's political future, and his decision to extend his stay in Pakistan seems to be a product of that thought process. High expectations notwithstanding, Tuesday's negotiations were clearly a final but determined push by the Afghan president to gain valuable diplomatic and political concessions vis-à-vis his demand for a release of political prisoners. In the process, the Pakistan-Afghan relationship may have just bought itself more air from a long spell of frost. A history of cautionary tales, however, suggests that the thaw is likely to be fleeting.
The writer is a Project Manager for Jinnah Institute's Strategic Security Initiative, and tweets @fahdhumayun.
(Please note that the views in this publication do not reflect those of the Jinnah Institute, its Board of Directors, Board of Advisors or management. Unless noted otherwise, all material is property of the Institute. Copyright © Jinnah Institute 2013)