Long Road to Peace
---
by:

Fahd Humayun​

Date:

May 9, 2015
---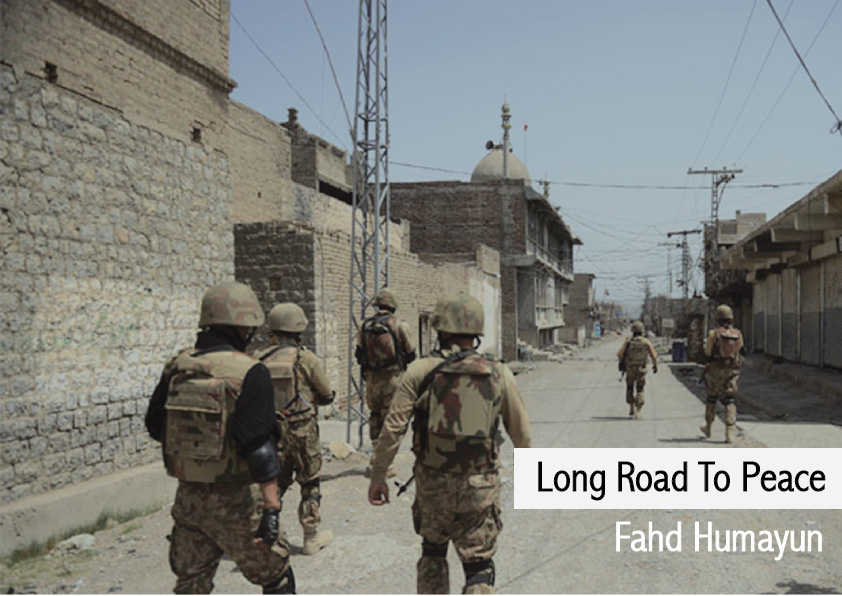 The war may have been won, but Afghanistan's warm-weather fighting season is just getting started. As the Afghan Taliban fan out into the northern province of Kunduz, looking to take its strategically vital highways, Kabul's national unity project – now a year old – faces a grim but familiar test: how to midwife a difficult intra-Afghan dialogue with the Taliban.
In Kunduz City, hundreds of Taliban fighters have streamed into key neighbourhoods; up to 2,000 more have a chokehold in Kunduz province as part of this year's Spring Offensive.
There is real reason to worry. Casualty rates in Afghanistan are up 54 per cent over the same period in 2014 according to an official estimate. As the ANSF and Taliban wrestle for districts and demographics, the Americans are sitting this one out, having emphasized that the Taliban will not be attacked unless it is for American 'force protection'.
But herein lies the problem: Washington's commitment to a slower withdrawal only complicates the issue of getting the Taliban to talk peace, and the longer the Taliban keep fighting, the harder it will be for Afghanistan's decade-old democrats to accept them as legitimate political stakeholders.
A closed-door exploratory conference in Doha between Afghan delegates and Taliban 'representatives' last week only prompted the Afghan Taliban to distance themselves from the process.
Efforts to downplay Mullah Omar's absenteeism notwithstanding, going forward Taliban fighters have good reason to emulate Kunduz-style warfare over Qatar-style diplomacy. Indeed, as long as ISAF remnants remain in Afghanistan, the Taliban's commitment to any peace process is more likely to be marked by false starts than follow-through.
This, frankly, puts President Ghani in a difficult position. For all its heterogeneity, Ghani's piecemeal cabinet still lacks a defense minister. Mounting political divisions on the issue of reconciliation at home, and an encroaching wave of IS-inspired fighters, mean that the window of opportunity for Ghani and Abdullah to broker a peace with warring militants, acceptable to all Afghan camps, is closing and will reopen next spring.
For Kabul then, one avenue for recourse is building up the ANSF. A fortnight ahead of Ghani's power trip to New Delhi, three Indian-made multi-role Cheetal helicopters were formally added to a burgeoning Afghan Air Force fleet.
But Indian offers for equipment are just as likely to affect, or upset, peace outcomes in Afghanistan. President Ghani turned down an earlier Made-in-India defence offer in a bid to rebuild bridges with Pakistan. The Indian desire for access to Middle Asia, however, is already finding ways to circumvent Islamabad – through Chabahar – and chip away at Kabul's cautiousness. The longer the Taliban hold Kunduz and Baghlan to ransom, the louder Kabul is likely to clamour for defence hardware, irrespective of the seller.
For Pakistan, an expanded Indian security role in Afghanistan will remain a strategic concern, and the recently reset Pak-Afghan relationship will certainly be tempered by the latitude given by President Ghani to eager Indian defence vendors.
India is presently Afghanistan's sixth largest donor, having invested over $2 billion in aid and reconstruction. And in the coming months it is the ANSF's performance in battlegrounds such as Kunduz that will determine precisely how Kabul articulates its defense needs to regional allies.
India simultaneously, needs to shake off old anxieties; there is value in seeing a culmination to the Taliban insurgency that includes the possibility of reconciliation, provided this is Afghan-led, and Afghan-owned. A stable political dispensation in Kabul, after all, rides high in South Asia's long list of policy prerogatives; but breaking with the past to bend the arc of the regional landscape towards stability will be a challenge. New Delhi for instance will have to reconcile with the Ghani administration's apparent desire to go the 1+4 mile – focus on bringing the Taliban to a negotiating table, while leveraging extra-regional Chinese, Pakistani, Iranian, and Saudi influences to make this happen.
But President Ghani will also have to rethink counterterror policy in his country's eastern flank. As long as the TTP continues to ride out the full force of Zarb-e-Azb, by seeking refuge in the forests of Kunar and Nuristan, the health of the Afghan Taliban insurgency will remain tied to Ghani's ability to renegotiate Afghanistan's eastern spaces away from the grip of non-state actors.
For an Afghan-owned peace to break even and fighting to end, the prerogative for an intra-Afghan dialogue must be Afghanistan's alone. Ghani, however, will have to ensure that negotiation does not come at the cost of fundamental human – and women's – rights.
This will necessitate inclusive leadership that accommodates all voices within the Afghan polity, and a stronger ANSF military that can support the National Unity Government in its climb out of chaos. But it will also mean leveraging regional relationships in a manner that corresponds with reconciliation lobbies at home – a feat Karzai failed to pull off.
Fahd Humayun works for Jinnah Institute's Strategic Security Initiative. He tweets @fahdhumayun.​
A version of this appeared in The News on 09/05/15.
Please note that the views in this publication do not reflect those of the Jinnah Institute, its Board of Directors, Board of Advisors or management. Unless noted otherwise, all material is property of the Institute. Copyright © Jinnah Institute 2015