Modi's Hubris
---
by:

Hassan Akbar

Date:

March 17, 2020
---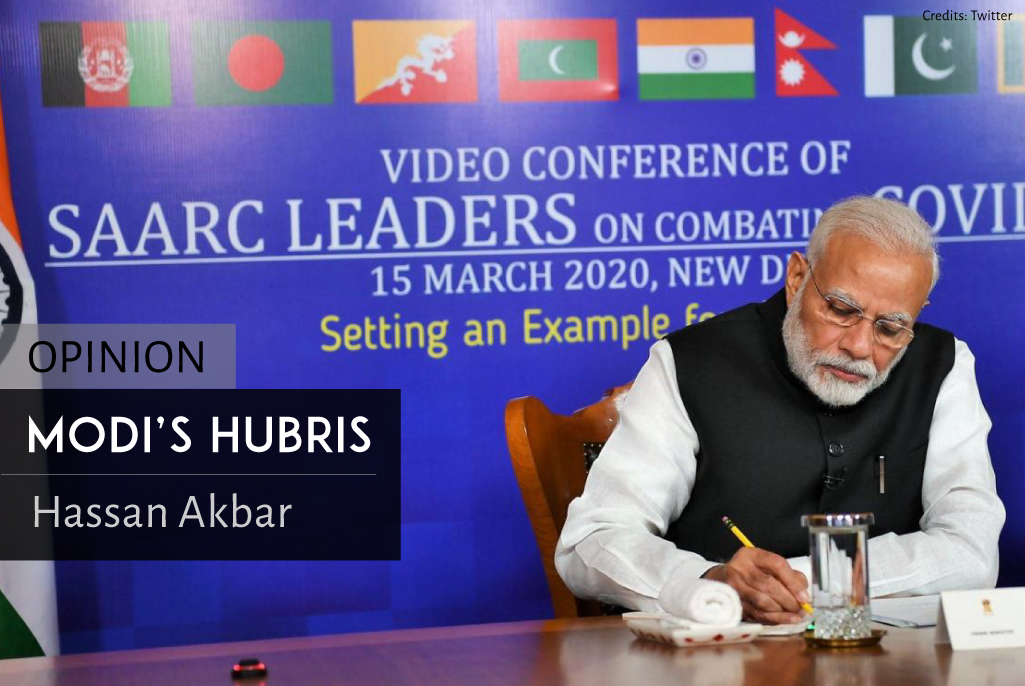 Has India finally woken up to the need for SAARC? Or is its latest reincarnation an attempt to reposition Modi as a regional leader?
While collaboration is welcome in the face of one of the most dangerous pandemics in recent times, it is equally true that most countries have adopted an isolationist approach in tackling the threat. India is an exception. Unlike much of the rest of the world, which has focused on coordinating health responses within the country, Prime Minister Modi has privileged a video conference with regional leaders over meeting and coordinating with his own Chief Ministers.
We must therefore be cautious in our assessment. This one-off use of the SAARC forum, which has been scuttled due to India's repeated attempts to isolate Pakistan, should not be read as a revival of regional collaboration in any larger sense. And while Pakistan should participate in such meetings, as it did, it should not take the eye off the longer-term implications of recent decisions by New Delhi.
Modi's actions in the past year alone have shown that there is a deep divisiveness at the heart of decision making in New Delhi. The culpable silence of the Modi led government as Hindutva rioters' targeted Muslim homes and businesses in New Delhi is its latest symptom. This is also not the first time that a BJP government with majoritarian policies has privileged ideology over judiciousness. A pattern is clearly visible.
In December last year, the BJP moved callously to exclude Muslims from naturalization, triggering weeks of protests and raising fears of a systematic de-naturalization of many of India's 200 million Muslims. Four months earlier, eight million Kashmiris were placed under the most draconian lockdown in modern times. Even earlier, in February 2019, South Asia was brought to the precipice of war after India launched a failed airstrike at Balakot.
These strong-arm decisions have one thing in common – hubris – borne of Modi's electoral success at home and the indifference of the international community to his increasingly illiberal ways. There should be little doubt that the politics of hate has worked at home for the BJP government.
It is no surprise then that BJP leaders who publicly called for violence against Muslims have been at the forefront of stoking communal violence in Delhi. At the helm, Modi and his right-hand man Shah, failed to act decisively to quell the pogrom in Delhi. With forty six lives lost in the violence, the international community too was uncharacteristically silent. From Trump, who was in Delhi while violence was raging, to other world leaders, this silence fuels the very hubris that is perpetuating Modi's brazen indifference to the outcry of India's liberal fringe and the world's rights community.
Disturbingly, few voices in India are speaking out boldly and clearly. Much of Modi's heavy handedness within India and in the neighbourhood has been couched in a narrative that sells Modi as a decisive and bold leader. This narrative and the opaqueness it has generated in the mind of the electorate has been fueled by a corporate media and a Hindutva social media brigade that consistently sells fake news and alternative facts to the public.
India's potential as a counter to China, it's centrality in the Indo-Pacific and its economic clout have smothered Western criticism. False claims of shooting down an F-16, fabricated threats to the Amarnath Yatra before the abrogation of Article 370, the dismissal of video evidence of mosques being burned down, are some of those striking instances where an ideologically charged media has spun success out of failure. The longer this indifference, and in some instances diffidence, continues within India and abroad the longer it will feed the hubris that has taken root in the corridors of decision making in New Delhi.
The SAARC video conference is one more publicity generating meeting, without much substance and geared towards building Modi's narrative of a regional leader. For Pakistan, letting such tactics derail its own strategic understanding of the objectives of the Modi government and the threat that it poses can have dire consequences.
For Pakistan, February 27 and its aftermath demonstrated that rationality may no longer be as prevalent in New Delhi as one would imagine. India's foreign minister himself alluded to India taking 'decisive action' to resolve many of the intractable problems that hamper India's global rise. His government's actions in Kashmir are an example of such unilateral decisive action. Worryingly, many Indian analysts also believe that the alleged surgical strikes in 2016 and Balakot last year, prove that there is room for kinetic action below the nuclear threshold. Only recently, India's defence minister repeated his threat of targeting any place within Pakistan if necessary.
The prevalence of this thinking despite Pakistan's resounding success during Operation Swift Retort speaks to the inability of India's leaders to appreciate the situation. Pakistan has warned that any further misadventure will find a disproportionate response. This is not an empty threat. Today, there is nothing in the menu of conventional options that India enjoys which Pakistan does not. Equally significantly, disabusing New Delhi of any notion of a 'new normal' is necessary for Pakistan. So is signaling to the international community that Pakistan's resolve is not insignificant.