Of Signals and Compulsions
---
by:

Fahd Humayun

Date:

March 23, 2021
---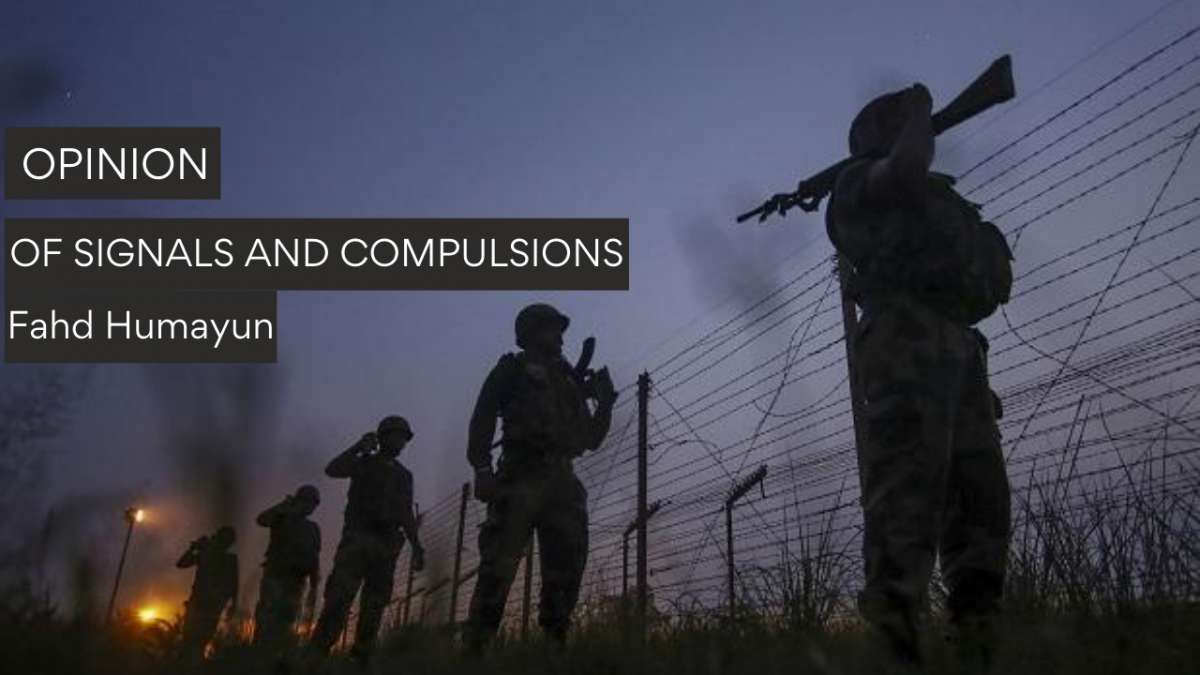 It's early days yet, but after a period of protracted turbulence, the India-Pakistan relationship seems to be steadying.
This steadying has largely been attributed to a string of conciliatory statements in recent weeks. In early February, the Chief of Army Staff said it was time to extend a hand of peace in all directions, and that India and Pakistan must resolve the longstanding issue of Jammu & Kashmir. Weeks later the DGMOs of the two countries released a joint statement following discussions that were held "in a free, frank and cordial atmosphere" regarding a mechanism for hotline contact. In their statement, both sides agreed for strict observance of all agreements and understandings, and to cease firing along the Line of Control. Almost immediately, Indian news sources claimed the agreement was the result of back-channel contact between the two sides – a suggestion that Pakistan unambiguously refuted. Last week, the Prime Minister and Army Chief reiterated to audiences in Islamabad that while Pakistan was keen to pursue peace, the onus was on India to create an enabling environment for talks. This weekend Prime Minister Modi tweeted a get-well-soon message to the Pakistani Prime Minister after he tested positive for Covid-19.
The response to these developments points to a complex set of political compulsions in both countries. The Indian media has interpreted statements out of Pakistan as a departure from precedent for Islamabad and Rawalpindi. Some Indian journalists have suggested that Pakistan is desperate, and that not talking to India has proven to be a cost-prohibitive strategy that Islamabad can no longer afford. Subtler attempts have been made by various other quarters in India to show Pakistani officials as walking-back on their commitment to the Kashmir cause in exchange for a moratorium on hostility with India. Others still have claimed that Pakistan has given up a previously-held stance that talks with India are conditional on an unequivocal reversal of the actions taken by the BJP on Aug 5, 2019.
Ahead of a potential meeting between the two Foreign Ministers in Dushanbe later this month, separating fact from fiction requires correctly establishing each side's incentives for future bilateral engagement.
The coverage of India-Pakistan relations over the last month-and-a-half points to an asymmetry in both countries' keenness to be seen as engaging with the other. For now, India's incentives to prove there is indeed a "thaw" clearly exceed Pakistan's. India has for a while now privately expressed a desire to see a dialing back in negative rhetoric from Pakistani state officials, including the Pakistan government's frequent linking of Modi and the RSS to Hitler and the Nazis. This rhetoric was, frankly, distracting from India's aspirations for regional and global great power status (aspirations that, in any case, blunt the strategic utility of war or conflict with Pakistan). It didn't help either that efforts to malign Pakistan on various international fora, including the Financial Action Task Force, were failing to land on target as frequently as India would have liked (Pakistan is likely to come off the grey list later this summer).
Simultaneously there seems to be growing recognition in New Delhi that forward movement with Pakistan may take some of the sting out of behind-the-scenes discussions with international actors such as the UN Commission on Human Rights on the state of freedoms in IIOJK. A new U.S. administration that is taking a firmer line on democratic freedoms and human rights coincided, unsurprisingly, with the Indian government's restoration of 4-G Internet services in the occupied territories. A new U.S. Secretary of Defense has already raised the issue of human rights with ministers in New Delhi, and India likely wishes to avoid an embarrassing repeat of the Trump administration's call for resolving the Kashmir dispute. It thus works to its advantage to be seen as engaging with Islamabad, even if this bonhomie is short-lived until New Delhi settles into a comfortable equilibrium with a new administration in D.C.
It is also worth situating the larger strategic incentives driving decision-making on both sides. For India, the agreement struck between the DGMOs on Feb 24/25 (and indeed the broader question of how New Delhi sees Pakistan) speaks to the extent to which India's threat perceptions are increasingly shaped by China. Even following Sino-Indian disengagement in Ladakh, it has become evident that India sees the prospect of a two-and-a-half-front war as a very real possibility, and one that it is not quite ready for. Cooling tensions with Pakistan both on the LOC but also more generally helps free up strategic and defense space that India can instead devote to what it sees as the more salient and immediate threat.
The picture here at home is a little more complex. The government and the military have both clearly articulated a desire for a foreign policy that is embedded in geoeconomics, connectivity and growth over one of geopolitics. This shift has been the result of a combination of factors: sustained counter-terrorism efforts at home, efforts to stabilize the rocky relationship with Afghanistan, and a much-needed recognition that without due focus on the economy, domestic stability will likely remain fragile. It also owes in equal part to the country's sustained articulation of a need for regional peace since 2008.
But for any India policy to carry doctrinal heft also requires ensuring that a future formula on Kashmir is firmly grounded in multi-party consensus at home. This will be important if a potential framework with India is to be democratically insulated from going the way of the 2004 Kashmir formula, which failed to develop a consensus that was not fully representative of Kashmiri interests. Thus far, Pakistan has cautiously maintained that Kashmir remains a festering wound in the bilateral relationship, and that for the sake of future generations of Kashmiris as well as the economic health of the region it is high time both sides sat down at the table to discuss a way forward. For this, Pakistan has said the onus is on India to create what it calls "an enabling environment". Pakistan has also said this necessitates, at the very least, a return to some of the conditions of pre-5 August 2019 status quo ante.
It has further indicated that there are a number of conceivable steps that India could still take in pursuance of these objectives, from releasing the Hurriyat leadership that continues to be under house-arrest, to allowing international observers into the disputed territories, to halting the introduction of new laws that will serve to effect demography, employment, land ownership and the political participation of IIOJK's for now Muslim population.
This could, in turn, create the space for Pakistan to consider, as a first step, discussing the potential resumption of diplomatic activity between the two countries, without negating Pakistan's commitment to the Kashmir cause as enshrined in UN Security Council Resolutions, the Kashmiri people, or democratic buy-in at home.
Finally, we need to avoid a narrative that suggests recent statements from Pakistan mark a departure or shift from past policy. The desire to improve ties with neighboring countries and supporting regional stability was articulated as early as 2008. Pakistan's public overtures towards India since Modi came to office in 2014 are particularly well-documented – overtures that would not have been possible had they not reflected a deeper underlying civil-military consensus on the need to move forward and build a lasting regional peace. As with Pakistan's prompt release of captured Indian Wing Commander Abhinandan following the events of February 2019, recent statements on moving forward continue to reflect that consensus, even if spoilers attempt to allege institutional rifts, or a lack of uniformity in Pakistan's commitment to the Kashmiri cause.
As is the case with all prospective dialogues, there is a lot that hangs in the air, and much to be done before either side can truly begin to bury the past.
The writer is a PhD candidate.