Pakistan's Floods One Year On: Flood Victims Continue To Face Long Term Challenges
---
by:

Mishael AliKhan

Date:

November 18, 2013
---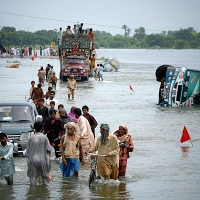 This month marks a year since Pakistan faced the worst floods in its history. The deluge devastated and submerged entire villages, roads, bridges, water supply and sanitation infrastructure, agricultural lands, livestock as well as washing away houses and health and education facilities. The floods affected over one tenth of Pakistan's population (20 million people), 84 districts and left 1.8 million homes damaged or destroyed, claiming the lives of nearly 2000 people[1].
A year later, many private, non-government and government agencies continue to help villages recover and rebuild through a variety of projects, but millions continue to face long term challenges that need to be addressed by the government and donors funding these initiatives.
Building the Resilience of Vulnerable Communities
The geographical scale of the floods made them the largest humanitarian crisis Pakistan has faced mobilising a number of local and international organisations. The groups provided emergency shelter and relief, including food, water and health and sanitation facilities to the most vulnerable and affected. However, the number of donors willing to fund early recovery and long term rehabilitation projects were few. Therefore, many communities devastated by last year's floods have yet to rebuild their homes and livelihoods. Reconstruction is estimated to cost over ten billion dollars, close to a quarter of the national budget. The slow pace of recovery and reconstruction makes millions of people vulnerable to another disaster[2]. Five million people continue to be at risk from floods this year, and more than 52 percent of last year's flood victims continue tofear floods this monsoon.[3]
Well over thirty thousand people continue to live in camps in Sindh alone, and more than 800,000 people still have inadequate housing, including those that have returned to their villages. Others are reluctant to return because they feel that adequate measures have not been taken to prevent flooding this year. The fear of losing their homes and livelihood again causes them to stay in camps or other makeshift areas putting them at greater risk of disease and malnutrition.
Vulnerability and poverty are closely linked; the majority of those whose livelihood was completely destroyed by the floods were people and communities already living in poverty[4].Even though emergency response efforts prevented a major food crisis and disease outbreak, the need for humanitarian organisations to invest in long-term projects that better prepare communities for natural disasters in the future is imperative. One year on, donors are being urged by non-profit and civil society organisations to invest in measures to reduce the impact of disasters as part of their overall aid packages.
In a recent statement, a country director for a key aid organisation said that "Pakistan is a disaster prone country and has been flooded 67 times since 1947."  Neva Khan from Oxfam urged that, "˜Pakistan needs to act now. Investing in measures today that reduce the impact of disasters is essential to save lives and safeguard development gains in the future."
Oxfam is one of many third sector organizations that have been stressing the importance of the government's role in flood rehabilitation efforts. Without the government's willingness to collaborate with NGOs, millions will still remain vulnerable and dependent on international aid.
The United Nations Development Programme's (UNDP) early recovery project in Sindh is one example of many initiatives by development agencies to ensure long term rehabilitation of flood victims.  Working with a local organization in a village in Sindh'sJati tehsil, the project aims to reconstruct 198 houses, install solar powered street lights, rehabilitate community infrastructure and assist with vocational training for women and girls.
But, it hasn't all gone according to plan. So far, only 25 houses have been built and these still require roofs. The process has been slow since the village is entirely dependent on aid provided by such projects. The government has not invested in basic infrastructure including roads, electricity and gas in the area, forcing the UNDP to start from scratch.
The project's painfully slow pace of progress has left many villagers still struggling to put three meals on the table. Despite this, the presence of such organizations gives them assurance that relief is still coming, and that there is still hope[5]. However, this case highlights a governance deficit at a critical moment, without which none of these projects can be sustained in the long run. There is still a huge need for a coordinated and collaborative effort between the government and non-government agencies to build people's resilience through such projects.
Many donors have pointed out that a holistic collaboration between the government and NGOs helps ensure funds are not duplicated or wasted. Long-term, sustainable projects cannot happen without such an approach. Pakistan's government must act now.