Polio: A Policy Predicament
---
by:

Palvashay Sethi

Date:

December 8, 2014
---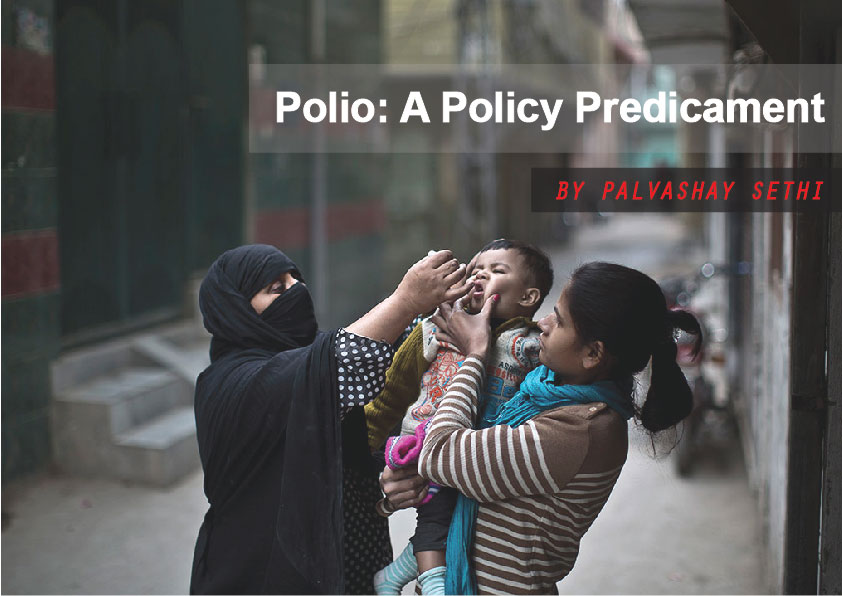 The government's response to Pakistan's impending polio crisis has been near negligible and characterised by apathy. The Pakistani public and children are especially at risk as the government seems unable to contain what is already morphing into a serious health crisis. According to data published by the Global Polio Eradication Initiative (GPEI) a total of 246 Wild Poliovirus (WPV) cases have been documented in Pakistan by November 18 2014, compared to 63 cases in 2013.[1] Additionally, the International Monitoring Board (IMB) convened a meeting in October pointing out that not only are "four fifths of all people in the world paralysed by polio….in Pakistan" but also that "nothing short of bold, transformative action" can remedy the ongoing crisis.[2]
At present Pakistan faces a number of obstacles that hinder tangible and sustainable progress in the battle against polio. Security continues to remain a concern for the fledgling polio programme as four polio workers – three of whom were female – were shot in Quetta on November 26[3] and a vaccination team in Charsadda was attacked by gunmen on November 24.[4] A report in Foreign Policy indicates that these attacks are part of a consistent pattern of violence against polio health workers that has resulted in 32 casualties in 2014 alone.[5] Moreover, attempts to contain the virus through the implementation of travel restrictions has only been partially successful as restrictions are limited to air travel and do not monitor those using land routes.[6]
Official numbers state that 96 percent of those affected by polio in Pakistan reside in Khyber-Pakhtunkhwa (KP) and FATA.[7] These areas are considered problematic as issues arising from complications due to terrain and access have had a detrimental effect on the quantity and quality of polio vaccination that could be administered to the inhabitants of KP and FATA in the past. Therefore cold-storage management needs to improved if the efficacy of the vaccine is to be maintained during delivery. Refusals in the aforementioned areas were also exacerbated by a shortage of female health workers coupled with a lack of adequate coordination with local religious and community leaders.
However, the IMB report suggests that the military operation in Waziristan (Zarb-e-Azb) has inadvertently provided the Pakistani government with access to those that remain unvaccinated and consequently this opportunity should be exploited with expediency to prevent further proliferation of the virus. In this respect Director-General of the World Health Organization (WHO) Dr. Margaret Chan has stated that "this past summer, hundreds of thousands of Waziris were vaccinated in transit posts. Pakistan actually showed that despite the challenges, their children can also be reached."[8]Zarb-e-Azb may ultimately prove to be a double-edged sword as unchecked migration from Waziristan has also contributed to the spread of polio to other parts of the country and may worsen the situation in the coming months.
If the Pakistani government is serious in its efforts to eradicate polio then a number of recommendations by both international and local organizations need to be evaluated. A seemingly superficial but key consideration is time. The IMB report highlights "inertia" on the part of the government in enacting policy recommendations that have been extremely successful in other countries like Nigeria. Other examples of a lackadaisical approach are present in various reports such as one that cites the non-payment of health workers as a factor that delayed the commencement of the campaign in KP.[9]
Another issue that needs to be immediately tackled is the composition and security of vaccination teams. End Polio Pakistan (EPP) posits that "persistent wild poliovirus transmission is restricted to three groups of districts" that comprise Karachi, Quetta Block (Quetta, Pishin and Killa Abdullah), FATA and KP.[10] Another report makes note of the fact that refusals are often prompted by a lack of female staff members on vaccination teams.[11] It is imperative that more female healthcare workers are recruited onto teams in order to enable and facilitate the vaccination process. In conjunction with this, local and religious leaders need to be taken onboard in order to ensure the cooperation of communities that remain unvaccinated. The EPP campaign makes mention of previous efforts that have been made to enlist religious leaders[12] but broader engagement needs to remain a priority if eradication is to be a success. Allaying fears and clearing misconceptions about the vaccine are crucial tasks that need to be performed in order to reduce refusals.
Increased security is also necessary to ensure the participation of healthcare workers. The onslaught of violence directed against polio vaccination teams needs to be investigated and a clear and cohesive policy needs to be adopted by the government to guarantee their safety. Despite acknowledging the need for the "safest possible environment" in the National Emergency Action Plan 2014 For Polio Eradication; the spate of attacks in November alone confirm that little is being done to create conditions for a safe work environment.
Amongst other recommendations, the IMB has strongly urged the government to consider handing over control of the polio eradication programme to the National Disaster Management Authority (NDMA). Towards the end of October however, the anti-polio steering committee rejected the proposal arguing that this was beyond the NDMA's mandate.[13] A reappraisal of this suggestion has merit as the NDMA is better positioned to handle the crisis as it has the operational ability to coordinate with military and provincial dispensations. The IMB also states that the NDMA "is well-placed…to draw in the vitally important cadre of provincial and local political leaders and officials" necessary for the success of the programme.[14]
The WHO has also issued a statement mid-November calling for travel restrictions that monitor the point of departure along with ensuring that appropriate documentation is present to facilitate international travel from Pakistan.[15] They have also requested that a report be presented to the Director-General of the WHO, which details progress with regard to measures recommended by the organization in order to enable coordination amongst stakeholders. It is important for the government to respond to this request with due diligence and urgency as uncoordinated efforts are likely to cause further delays and hinder progress as the virus spreads unabated.
The government faces a myriad of challenges in the struggle to eliminate polio. The need of the hour is swift and consistent action along with a renewed zeal to treat the matter with the seriousness that it deserves in order to prevent this from becoming an even bigger public health crisis than it already is.