Prioritizing Women and Children During Flood Rehabilitation
---
by:

Mishael AliKhan

Date:

November 25, 2013
---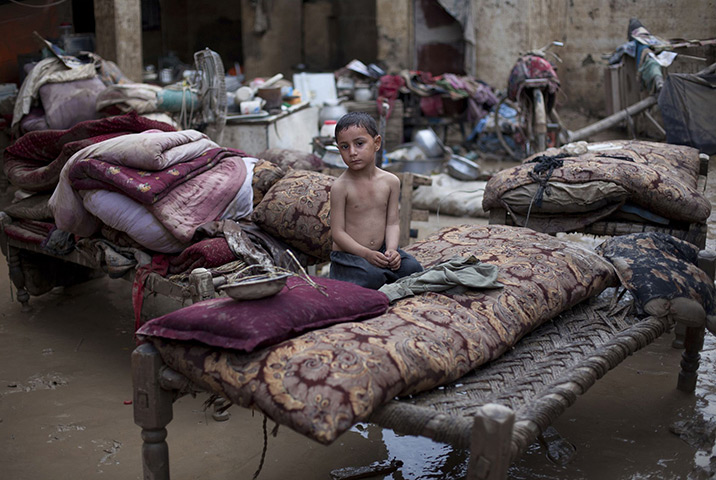 10 million women and children were affected in last year's catastrophic floods that caused the largest humanitarian crisis in Pakistan[1]. The areas most impacted by the floods were among the most conservative and feudal dominated areas, where women and children are often deprived of their most basic rights.
International donor and Non-Governmental Organizations (NGOs) have made considerable efforts to prioritize women and children during last year's floods. They are the most vulnerable in terms of gaining access to shelter, food, and, health facilities and face multiple threats including sexual harassment and various other forms of exploitation.
During the initial emergency response, women rights activists raised their concern about gender based violence and harassment at the hands of officials during aid distribution[2].
Millions of children were also unable to access food during the rehabilitation process, resulting in a third of them suffering from acute malnourishment. In Sindh alone, 25% of children under the age of 5 are severely malnourished, putting them at risk to serious illnesses if not death.
Despite the efforts of many organizations to treat malnourished children, an estimated $2 billion is still needed to help these children recover and only half that money had been committed thus far[3].
Many of the children and their families impacted by the floods last year are struggling to survive as their incomes have fallen by 70% in the past year, forcing many children to look for work, often in dangerous areas, resulting in a surge in child labour[4].
Child labour is a huge concern for organizations setting up several projects for children to return to school, often rebuilding and repairing thousands of schools that were destroyed during the floods.The need to educate Pakistan's poorest is critical as their livelihood and progress is key to any community's long-term recovery. However, with families unable to support themselves, more needs to be done to reduce their dependency on aid.
Although women are the largest contributors to Pakistan's agro-economy, they have been perpetually denied access, control and ownership of land and remain the most neglected section of the flood-affected population.
When the floods hit Pakistan, 2 million hectares of crops were ready for harvest,resulting in a massive loss of livelihoods and creating serious food insecurity. While some received compensation for the loss of income, women farmers were excluded from government-backed compensation schemes, as they were not seen to qualify as 'farmers'.This is because many women do not own the land on which they farm due to cultural and legislation barriers that limit their access and control to their land.
To help rural families and landless women farmers overcome this cycle of exploitation, the provincial government of Sindh has recovered 95,000 acres of its own land from the flood, distributing it to roughly 5,800 peasants[5].
The media has been highlighting the plight of women flood victims in recent weeks, urging the government to address the 'special' needs of flood affected women and girls including protection from violence, hunger and landownership, as well as prioritize their rehabilitation in the current fiscal budget[6]. It was also asked that women in rural areas be given access to productive resources and be included in the planning and implementation of reconstruction projects.
Rural women gathered in front of the National Press Club in an anniversary event organized by an INGO to present a Charter of Rights for Flood Survivor Women of Pakistan but they failed to be given importance[7].
"Women were also barred from collecting relief material from food distribution centers because of recurrent incidence of harassment and misconduct. Similarly, women were marginalized in 'Watan Card' distribution scheme, which affected their morale to cope with the emergency situation," said Sakeena, a women farmer from Layyah' [8].
To counter limited access to relief good for women, aid agencies appealed to the government to introduce relevant mechanisms and an institutional framework to deal with these grievances, especially in the case of households where women were primary breadwinners.
Most assistance was allocated on the basis of national identity cards, however, most women flood victims did not have national identity cards and were not eligible for aid
It was also suggested that the National Disaster Management Act of 2010 be reviewed comprehensively to avoid duplication of roles in rehabilitation efforts by various agencies.  However, the lack of coordination was also evident in different organs of the United Nations (UN)[9], a reminder that all organizations were faced with capacity and coordination issues that come with working in such a vast geographical area struck by disaster.
It is essential that both public and private organizations urgently assess their relief efforts to prevent such women and children falling through the cracks.Task forces need to be mobilized in rural areas to identify women and children in need of flood assistance. Awareness programs about gender based discrimination and child labour need to be integrated with relief efforts to ensure women and children have access to relief goods. Finally, women breadwinners need to be engaged for effective local community participation. Addressing and mending these shortcomings in rehabilitation efforts will help ensure that the most vulnerable are targeted.