RCEP: A 'Post-Alliance' World?
---
by:

Zahaid Rehman

Date:

November 24, 2020
---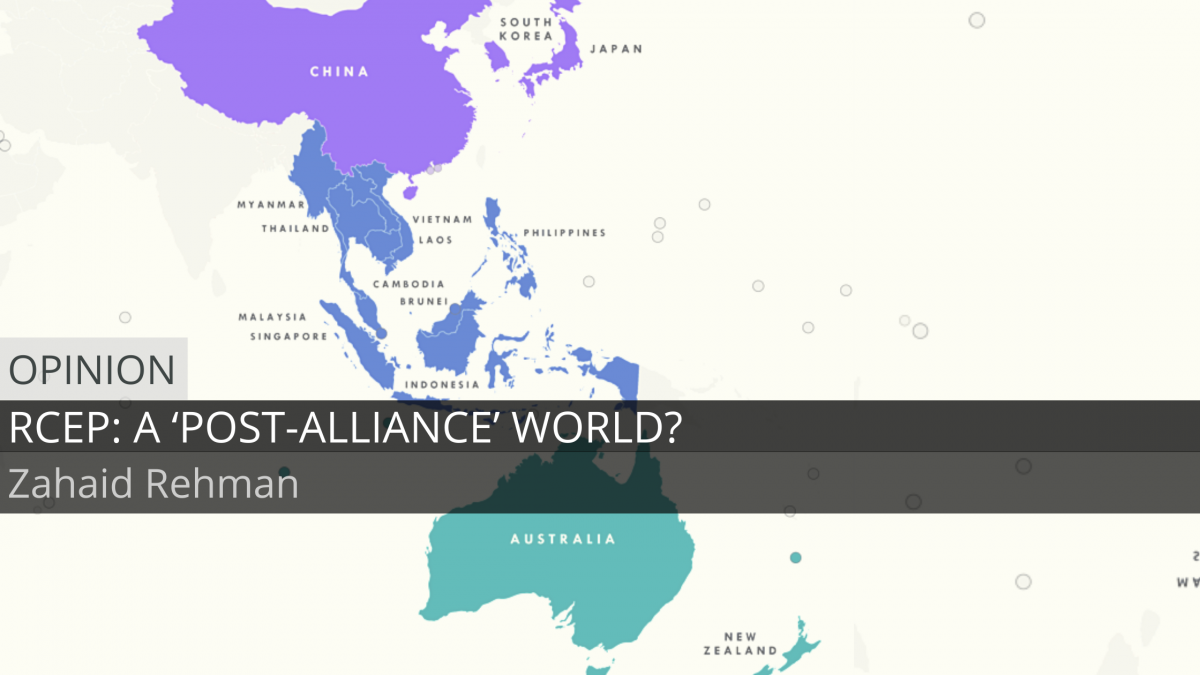 Whenever regional trading blocs are under discussion, free-market proponents are quick to point out the myriad benefits free-trade zones tend to bring. A windfall of revenue is promised.
An opening of the borders with mutually beneficial terms and transit routes stands to improve the quality of goods and services available and an opportunity for each state to focus on its unique competitive advantage. But even in our wildest dreams, we can scarce picture a trading cooperative of states that covers nearly a third of the global economy. The Regional Comprehensive Economic Partnership (RCEP) stands to do just that for the 15 member countries currently signatories to the agreement.
The careless optimism aside, the participating countries in the deal are Australia, Brunei, Cambodia, China, Indonesia, Japan, Laos, Malaysia, Myanmar, New Zealand, the Philippines, Singapore, South Korea, Thailand, and Vietnam. Look closely at a map and note the signatories to the agreement; you will find that a perfect corridor has been created. A free trade zone with economic barriers lifted or decreased—particularly those of transit trade—implies room for greater cooperation as well. This is not to say that we will see another EU on our doorstep, but a trade agreement that actually works—unlike the South Asian Free Trade Agreement (SAFTA)—can do wonders for mutual development in this region.
Since 2016, the situation relating to trade agreements in the Pacific Ocean has been murky. The US was in discussions with allies such as Australia and Canada to form the Trans-Pacific Partnership in 2016. But the Trump administration decided to withdraw the next year, paving the way for the Comprehensive and Progressive Agreement for Trans-Pacific Partnership (CPTPP) to be signed by Australia, Brunei, Canada, Chile, Japan, Malaysia, Mexico, New Zealand, Peru, Singapore, and Vietnam. The idea was to remove tariff and non-tariff barriers to trade and include provisions for investment, intellectual property and neutrality on state-owned enterprises (SOEs), among others.
Economic experts have been quick to point out that the financial benefits of RCEP are real, but not as large-scale as expected; especially in comparison to the CPTPP. Interestingly however, RCEP allows for China to make inroads with TPP states and could even find itself coming closer to becoming a part of CPTPP. Undoubtedly, the US withdrawal has helped pave the way for Beijing to consider participating. On November 20, President Xi indicated that China would "favourably consider" joining CPTPP, and RCEP was responsible in setting up the largest free-trade area in the world. The two treaties are similar in their makeup in terms of the provisions within, but CPTPP's focus on technology and the provision of services might lead to a normalisation of sales globally for tech companies such as Huawei, which have been in the centre of the trade war between the US and China.
Beyond the obvious economic promise there are other positive externalities that become available for Beijing as a result of spearheading this venture. For China, the equation has just become simpler. In its competition with the west, it has now sold the idea of a post-bipolar world to many of US' allies. There is no need for states to pick one side or the other, they can continue to cooperate with the west and take advantage of the high volume of trade that comes with a positive relationship with China. Member states of the Five Eyes and the Quadrilateral Security Dialogue—two alliances seen by many as positioned against the rise of Beijing—have now become signatories to the RCEP. Australia, Japan and New Zealand will see greater connectivity to China as a result of this agreement; over time, this can be used as a means to decrease the significance of old alliances. The UK is also considering joining CPTPP to cover the decrease in trade volume as a result of the pandemic. Other countries might soon contemplate greater partnership with China as well, especially in the coming year, when a vaccine is expected and countries will rush towards reaching pre-Covid export targets.
This means that the old narratives of east versus west or blue versus red of the old world might slowly fade away as a result of the necessities brought about by a modern world struggling to see through the economic devastation left behind in the wake of a pandemic. Where the west was seen as a proponent of free trade and lifting restrictions, we now have a post-Trump US where protectionism and an increased focus on domestic trade has taken centrestage. Beijing has stepped in and is offering high volumes of trade to all participating countries in both RCEP and CPTPP, and can now also claim that it pulled through for them in the most difficult year.
For Pakistan, its consistently deepening alliance with China and an urgent need to improve its balance of payments through export volume—moving past the fixation on the current account balance through exorbitant import duties—necessitates a move towards RCEP. Remarkably, there has been no offer for us on the table to join—but RCEP is open to participation and our proximity to the other signatory states would allow for us to take full advantage. In fact, our participation could be positive for existing signatories as well; the strategic positioning of Pakistan—access to the Indian Ocean, and the Middle East through Iran (if sanctions were to be lifted or minimised with say, a new President in the White House)—allows for RCEP members to utilise new conduits for trade.
It also helps that Pakistan will not have to contend against the consistently acrimonious presence of New Delhi. India could have been an important part of RCEP as well, if it not for its late exit in 2019 due to "significant outstanding issues". It has cited lack of protections for the agriculture, dairy and other industries as a major reason, but its hesitation also likely stems from tensions with China. This might end up being a significant regret for New Delhi in the months to follow when the deal becomes operational. Bilateral trade with participating states might be affected for India, considering RCEP provides a potentially more lucrative market if restrictions are eased and China's vision is realised.
Ultimately, the next year will see a change in trading relationships. Some states will move towards protectionism and rejuvenating local industry through subsidies as they recover from the extended periods of lockdowns and the deteriorating health of the workforce. The US looks to be at the forefront of this shift; though the Biden Administration might look to do things differently, affairs at home might keep the new President too involved to allow focus on lowering trade restrictions in the short and medium term. RCEP countries on the other hand, will strike a different path and look to exploit a more connected regional market. A lowering of barriers looks to be the logical extension of this policy. The mantle of free trade looks to be shifting; the Communist Party in China looks to be offering what was once the sole proviso of the west—free trade and the opportunity to cooperate while also keeping SOEs in the mix. At least, for now.