She's More than a Slogan
---
by:

Ahmer Naqvi

Date:

December 2, 2013
---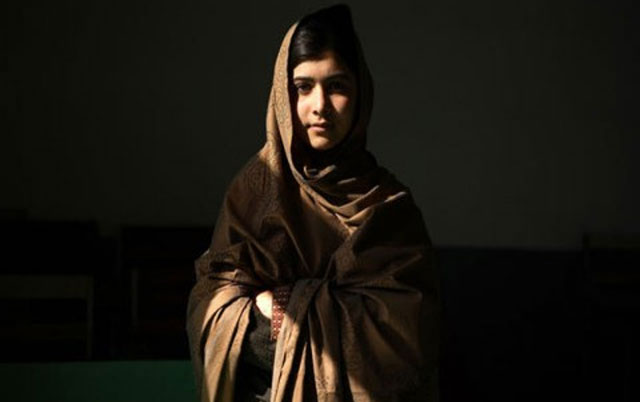 In a few hours, we will know if a young girl will get to become what one commentator described as the reason the Nobel Peace Prize gets its credibility down.
But before that happens, I'd like to put some thoughts down.
It sounds odd writing it down, but Pakistan loves mapping its politics on to a woman's body. I do not mean this in any sense more titillating or scandalous than it already is. I also don't mean this in the usual sense of women in modelling or acting, or women's bodies being to use to sell most products in the market.
I am trying to talk about a Pakistani woman, a Pakistani girl, who is currently at the centre of a maelstrom of global media attention. In an unprecedented and discomforting manner, this girl's experience is the first time many of us are seeing one of our own be consumed by all sections of the world's media, being forced to become all sorts of symbols she is not. We've seen her idea/name/symbol go from a tattoo on Madonna's back to the odds on favourite for the Nobel Peace Prize – whose recent winners include Barack Obama and the EU.
Of course if she does win the Nobel Prize, it would also accomplish a terrifically cringe-worthy feat for Pakistan; we would perhaps be the only nation in the world to hate on every Nobel Prize winner we ever had.
In the aftermath of the Peshawar Church bombing, many people called out for the victims to be described as Pakistanis and not Christians; an attempt to rob the victims of the identity that led to their murder. In the same way, using this girl to champion one's own views, rather than the ones that got her shot, are an attempt at robbing her identity – the same thing many people are resenting the global media for doing.
And this is not new. Just look at the last 10 years or so for examples of how we keep finding women on whom we map our entire ideologies on, reducing them to endlessly repeated images festooned with slogans they hadn't stood up for.
Mukhtaran. Aasia. Aafia.
Let's start with Mukhtaran. Discarded by ideologies of every stripe, the perception of who she was can be judged by the fact that the most liberal head of state in recent Pakistani history quipped that gang rape was an easy way to get a Canadian visa.
Aasia, from the lowest social caste in Pakistan, barely had any relevance as a symbol – her cause soon obfuscated by the bullets and garlands that were showered in her name.
Aafia perhaps presented a chance for the liberals to redeem themselves, to show that they would put a woman's own identity above politics. Instead, we blamed her for being a bad wife, a bad mother, a bad this or that.
And I haven't even mentioned the one woman who was personified as the "Charoun sooboun ki zanjeer", whose murder genuinely made the analogy feel real, and whose murderers were never brought to justice.
I wonder sometimes, even though it seems like an overreaching generalisation, whether this impulse to map politics on to a woman has something to do with our genesis as a country.
We still have no recollection, let alone an explanation, of how the bodies of women were butchered and pillaged to mark Partition. We fete the one writer who dared to write about it, but clearly haven't learnt from the horrors he documented.
We are still obsessed with reducing our women to our own political viewpoints, stripping them of their identity and their personal message, blanketing them with the burdens of our own agendas.
So for the sake of the little girl, the confident young woman, the pride of our country, let's refrain from the outrage and the trolling and the counterattacking. Her simple message was about education, that's what she took a bullet for, that's what she is working for. It is remarkably simple for all of us to help realise her dream, and more so than any gushing or gnashing words to her, let's just do that instead.