Women in Pakistan – Battling the Odds
---
by:

Mariam Kizilbash

Date:

November 18, 2013
---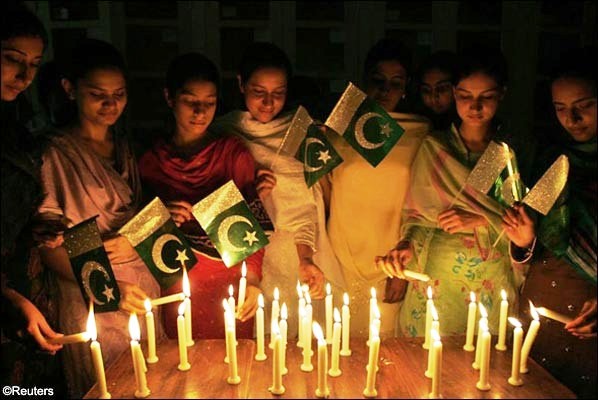 For many decades in Pakistan, an entire architecture of laws has been used to persecute and marginalise women, most potently symbolised by the Hudood Ordinances and other discriminatory laws instituted in the early 1980s. However, 2011 proved to be an important year, at least in terms of legal significance for the women of Pakistan. For many, the slew of new bills that became laws were cause for a degree of optimism.
These included bills, which provide for greater punishment for offences against women, including forced marriage. While not always easy to enforce on the ground, these laws aim to protect women from losing their inheritance and from being traded as chattel for dispute-resolution within families and tribes. They also establish tougher punishments for perpetrators of inhuman acts of violence, including acid attacks, with penalties that can reach up to life imprisonment and payment of Rs1 million to the victim. Another new law, the Prevention of Anti-Women Practices Act 2011 also criminalises the practice of 'Haq Bakhshish' – forcing women into 'marrying' the Quran. At the same time, International Women's Day saw the President signing into law a bill that empowers the Status of Women's Commission to be autonomous of government while being funded by it.
In January 2011, the human rights activist groups and politicians fighting to save Aasia Bibi, a Christian woman accused of blasphemy and given the death sentence, succeeded in having her acquitted. Governor Salman Taseer's assassination did not deter these women activists rallying against discriminatory laws in the face of overwhelming extremist opinion. One such woman was Sherbano Taseer, daughter of the slain Governor, who came forth to protest the death of her father and the way in which his killer was showered with rose petals by lawyers who vowed to defend him in court.
July 2011 also saw Hina Rabbani Khar appointed the first female Foreign Minister – incidentally the youngest person in history to be awarded this position in Pakistan. In November 2011, a person who speaks openly against the misuse of Blasphemy Laws, former journalist, Information Minister and strong advocate for women and minority rights, Sherry Rehman was made Pakistan's Ambassador to the United States at a point when relations between the two nations were at their lowest ebb. While the laws and the appointments alone do not amount to a major shift in the way women exercise their rights in Pakistan, it has brought a sense of welcome change in a landscape marked mostly by disappointments, if not despair.
Pakistan has also been one of the eight UN countries piloting the 'Delivering as One' model, under which UN agencies are developing new ways of coordinating and harmonising efforts to implement different programs that promote gender equality. There is also hope that measures like ensuring increased participation of women in Parliament as well as in the local bodies may eventually lead to the eradication of institutionalised discrimination and pave the way for more representation, empowerment and security for women. But politics and law-making is not the only area women made their mark recently in Pakistan. In the media, in law, in academia, sports, sciences and the entertainment industry, women stood out as key achievers.
In February 2012, it was a woman who won Pakistan its first Oscar. Her daring documentary drew attention to one of the most heinous crimes perpetrated against women, while the government's public embrace of the film sent a powerful message that the discourse on urgent challenges in policy and legislation were no longer limited to the realm of non-government reform spaces. In her acceptance speech at the Oscar ceremony, Sharmeen Obaid Chinoy dedicated the award to the women in Pakistan working for change. Of course, success stories do not make for changing trend lines in the bigger picture.
Pakistan is still rated as the third most dangerous place for women for all indicators of discrimination, culture and non-sexual violence. Laws often go into reverse gear, as did the Criminal Procedure Code Amendment Act 2011, which put women at the mercy of a biased criminal justice system once again, after reform in 2006. Multiple hurdles still stand in the way of minimising everyday persecutions endemic to local custom, while the road to safety and dignity for vulnerable communities as defined by UN Conventions remains a distant goal.
However, in the long road to reform, it is important to give pause and take note of the changes that are taking place on the ground, even if it is in the increment. Set in the context of a fragile democracy where for the first time institutional shifts are marking broader changes in the powers of the courts, the media and the Election Commission of Pakistan, these laws and the women who fight for them gain both meaning and traction.