Women in the TTP: Recruiting Across the Gender Divide
---
by:

Meera Nadeem

Date:

August 10, 2017
---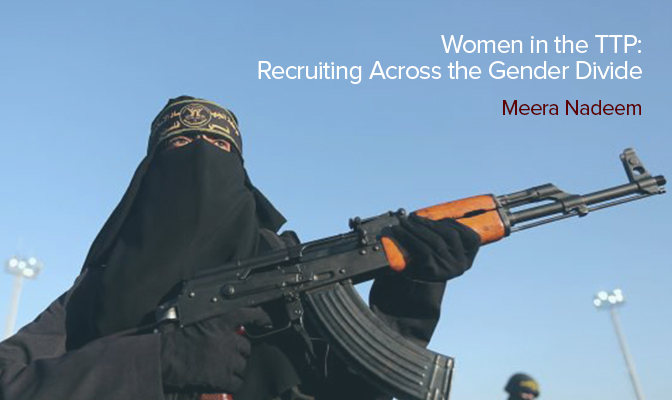 Women in the TTP: Recruiting Across the Gender Divide
In the course of carrying out its anti-state insurgency, the Tehrik-e-Taliban Pakistan (TTP) has  damaged or destroyed over 1,000 schools in Pakistan's tribal areas since 2001, waged a public campaign against girls' education, and claimed responsibility for the attack on activist Malala Yusufzai. With Operation Zarb-e-Azb having dismantled a considerable network of terrorist hardware and infrastructure since June 2014, the TTP has been forced to retrench under a relatively more decentralised operational network, with a newfound reliance on the Internet and social media to ensure propaganda continuity. With the launch of their latest offline magazine "Sunnat-e-Khaula" this August 1, the militant organisation looks to target a different and potentially significant audience: the educated, urban Pakistani woman.
The TTP has issued publications in both Urdu and English to attract new recruits in the past; this time, however, the 45 page English-language magazine marks an unprecedented departure with the group exclusively tailoring its message to educated English speaking urban women, inviting them to adopt the jihadi way of life. The first issue of the publication opens with an editorial featuring the interview of the unnamed wife of TTP leader Fazlullah Khorasani, in which she propagates underage marriages as a way to fight the evils of society, and extols the virtues of being married to the militant leader at the age of 14. The magazine also features a story by a female Pakistani doctor about her journey from "ignorance to guidance" in which she traces her decision to shun her western education, and embrace the Islamic way of life. The magazine urges women to take up "jihad by pen," organise secret religious gatherings at home, and learn to operate weapons and grenades. It also includes an advice column for would-be lady jihadists.
This is not the first time the TTP has reached across the gender divide. Back in 2014, the organisation claimed to have an army of at-least 500 female suicide bombers ready to launch attacks in the country. Since 2015, Pakistan has witnessed a pronounced increase in the number of incidences of women's participation in transnational jihadist groups including Daesh and Al-Qaeda in South Asia. With its sophisticated use of social media, Daesh too has emerged as a highly potent, social-media savvy transnational outfit, regularly releasing graphic videos of brutal prisoner executions, designed to intimidate, broadcast intent, and seduce recruits to its cause. Four female recruits with links to Daesh have been arrested this year alone from Lahore, on top of eight arrested from Sargodha and Peshawar in 2016. An estimated 100 Pakistanis including women are reported to have travelled to Syria and Iraq from Pakistan to join Daesh in the Middle East. Despite limiting the role of women in society by banning education and relegating them primarily to the domestic sphere, the TTP has drawn up a blueprint for the participation of women under the specialised ambit of "women's jihad". Numbers are still sketchy, but from acting as facilitators and fundraisers for the Taliban in Swat, to pledging their allegiance to Daesh under the Jamia-e-Hafsa women's madrassah in Islamabad, women's representation in militant ranks is increasingly on the rise in Pakistan.
Even more alarming is the fact that educated urban women are willing to join Islamist terrorist groups that deny them the same rights as men, in many cases leaving their husbands, children and families behind to fight on behalf of terror outfits. In September 2015, Bushra Cheema, the principal of a Lahore based Islamic center left her husband and travelled to Syria along with her four children to join Daesh – a stunning example of the winds of radicalisation with the potential of affecting urban households. Religious hubs such as Al-Huda boast a marked presence throughout the country, and have come under scrutiny for encouraging hate and anti-western propaganda. The examples of 19 year old Naureen Leghari, a second year medical student arrested for her links to Daesh back in April 2017, and Sadia Jalal, a university teacher and wife of an Al-Qaeda militant arrested for facilitating the Safoora Goth carnage of May 2015 are just a few examples of how extremist networks are playing both sides of a gender and class divide.
The launch of "Sunnat-e-Khaula", then, is indicative of a politically expedient strategy on the part of the TTP to further tap into these women's lives and attempt to re-entrench themselves into civil society and popular culture. With the growing popularity and use of social media among terrorist groups, the TTP has taken to Facebook, Twitter and YouTube to spread its message and build a following. While Army operations such as Zarb-e-Azb and Radd-ul-Fasaad have killed over 4,000 and arrested as may as 5,621 terrorists since June 2014, progress has been slow on regulating madrassas, blocking extremist messaging, and empowering the National Counter Terrorism Authority (NACTA) to holistically implement the government's National Action Plan (NAP). Since its launch over two years ago, much of NAP has yet to be implemented, and with women recruits increasingly being incentivised by the TTP, militant narratives need to be countered aggressively to prevent further terrorist inroads, and therein, successes.
A version of this article appeared in The Express Tribune on 10-08-2017.
____________________________________________
Please note that the views in this publication do not necessarily reflect those of the Jinnah Institute's Board of Directors, Board of Advisors or management. Unless noted otherwise, all material is property of the Institute. Copyright © Jinnah Institute 2017.