Year in Review 2010: Attacks on Shrines and Education
---
---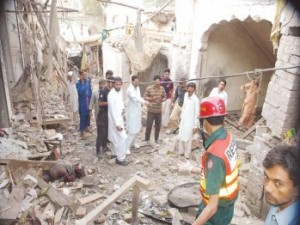 In 2010, Pakistan witnessed a startling increase in the scale of attacks on shrines of Sufi saints throughout the country. Attacking shrines is not a new phenomenon in Pakistan "" since 2005, shrines in Balochistan and Khyber Pakhtunkhwa have come under attack from militants of different organizations such as the Lashkar-e-Islam and the Tehreek-e-Taliban Pakistan. Five years later, militants have struck popular shrines in urban areas at times when thousands of visitors were present. In July 2010, the shrine of Sufi saint Data Ganj Baksh Hajveri was attacked by two suicide bombers in Lahore. The attacks left at least 45 devotees dead and injured 175 people. In October, a double suicide bombing at the shrine of Sufi saint Abdullah Shah Ghazi in Karachi killed another nine people and injured over 70. An attack on Baba Farid Shakar Ganj's shrine in Pakpattan in October left another seven people dead.
For some observers, the militant's tactics are cornering mainstream, non-extremist followers of Islam and demanding that they make a public display of demonstrating allegiance to a particular strand of faith. Such a forced or public confession is antithetical to what Sufi shrines symbolize in Pakistani culture. The Sufi tradition allows followers of all faiths to visit the shrines; it is also a refuge for both women and men, unlike mainstream mosques which are usually exclusively male spaces.
Attacks on shrines also represent a disturbing change in how militants have shifted their focus from attacking symbols of the state such as the GHQ, FIA law enforcement offices in the past, to symbols of religion that have a following amongst various sects and religions. With the rise in attacks on shrines, militants have stepped up their attacks on the average Pakistani's way of life.
Despite the threat to shrines, thousands of people continue to visit these holy places. In a positive development, the government has put additional security measures in place at popular shrines across Pakistan. However, hundreds of shrines remain vulnerable to attacks, especially those located in smaller cities such as Pakpattan.
Additionally, attacks on shrines signify a growing attempt by militants to further the sectarian divide, and impose the Wahabi version of Islam, which forbids Muslims from venerating saints and visiting Sufi shrines.[1][2]
The Government of Pakistan must attempt to ensure that shrines throughout the country are provided adequate security in order to deter militants from attacking these holy places. According to a report, a mere 58 out of 319 shrines in Punjab have security arrangements in place; even these measures, according to a provincial intelligence agency's report, are "inadequate". The Auqaf Department, which is in charge of shrines, must ensure that adequate police personnel and additional private security guards are present in and around these sites. Each shrine must be equipped with security gates and metal detectors, which should be installed outside the shrine's premises, as this could help prevent potential attackers from entering the shrine.
While deputing so much state security is a challenge, there needs to be some form of citizens-police liaison activity in such areas. A large corps of police personnel can be freed up from gratuitous VIP duty.
Additionally, religious scholars from all sects must unite to condemn such attacks and declare suicide bombing as forbidden in Islam. In an attempt to maintain their power base and their links with hardline Islamic groups, mainstream religious parties continue to remain ambiguous on the issues of suicide bombings and the sanctity of shrines. The government too has failed to achieve a consensus amongst religious scholars to unequivocally condemn suicide bombings. This is further strengthening the hands of the extremists, who continue to take advantage of the sectarian divide.
Extremists have assassinated Sunni religious scholars that have in the past taken a stance against suicide bombing such as Mufti Naeemi, who was killed in Lahore. Such attacks on religious scholars may act as a deterrent to those who are opposed to suicide bombings yet may not denounce such acts publicly. The government must also ensure security to religious scholars who promote a moderate, tolerant version of Islam.
Education Under Threat
Another disturbing development in the country has been an increase in the rate of Taliban bombing on primary schools in Pakistan's northern areas. Militants in Peshawar have targeted at least 20 schools in 2010. Scores of schools have been destroyed in Mohmand Agency, Bajaur and Khyber Agency, amongst other areas. Due to these attacks, hundreds of children have been deprived of the chance of getting an education. Schools in Peshawar have been threatened by militants warning that they should be prepared for the consequences if the schools don't shut down. 700 schools have been destroyed in Khyber Pakhtunkhwa at the hands of militants in the last few years.
Prior to the launch of the military operation in the area, militants in the Swat Valley destroyed at least 150 educational institutions. According to reports, none of the schools have been rebuilt. Children who are still recovering from the effects of a long and bloody war are gaining an education under the open skies or in makeshift tents. Despite commitments from the government and international donors, the citizens of the Swat Valley have not seen a follow-up to the promises made to them.
The state of education in Khyber Pakhtunkhwa was already dismal before it received a further blow at the hands of nature. While militants have destroyed dozens of schools in the province, at least 800 educational institutions were destroyed in the floods of 2010.
The lack of security arrangements at schools and the absence of the state's writ signifies that the militants, despite military operations in the area, continue to attack educational institutions with impunity.
As witnessed in the Swat Valley, before militants officially took control of the area, they attacked symbols of the state, such as schools. Such attacks not only challenge the state's writ but also represent the Taliban's opposition to modern education and an attempt by the Taliban to try and impose their way of life on a defenseless public. Schools in urban areas have already been threatened by militants and have been frequently shut down as a result of security fears.
Additionally, militants affiliated with hardline Islamic groups have also started attacking schools in the province of Balochistan.[3] The Harkat-ul-Mujahideen, an Islamic militant group, threatened schools in Mastung that they must change the uniform to the shalwar kameez or be prepared for the consequences. Militants linked with Islamic hardline groups have also taken advantage of the fragile security situation in Balochistan and have targeted teachers belonging to the Shia sect of Islam.
In Khyber Pakhtunkhwa, the reconstruction of the destroyed schools must be undertaken on an urgent basis. Additionally, the government must ensure their security, using forces from the Frontier Corps and the Pakistan Army. As part of a successful counter-insurgency strategy it is vital that the state successfully clears and holds these areas, and ensures that children are able to attend classes in a secure environment.
There is also a need for a joint stand from all political forces, condemning the attacks on educational institutions. Pakistan's political parties must send out the clear message that receiving modern education is in no way incompatible with Islam. Political parties such as the Awami National Party that have taken a stance against attacks on schools have been repeatedly targeted by the Tehreek-e-Taliban Pakistan, which includes the assassination of an ANP leader's son, and attacks on ANP leader Asfandyar Wali's residence.
Citizens also need to be mobilized to protect their community schools; citizen-police liaison committees can work towards ensuring that any threats or suspicious activity near the school is immediately reported to the authorities.
As the military operations continue, the government and international aid donors should ensure that access to education for children in conflict zones is their top priority. If such steps are not taken, not only will the militants succeed in their mission of imposing their form of governance on an area, but Pakistan's next generation will be forced to attend radical madrassas in lieu of adequate educational institutions.
---
http://www.differencebetween.net/language/difference-between-sunni-and-wahabi/
http://biphome.spray.se/hyla/wahabia/03.htm
Page 41, Human Rights Watch report: Their Future is at Stakehttp://www.hrw.org/sites/default/files/reports/pakistan1210.pdf